The fourth and final scheduled race weekend of the month featuring the F1 circus is upon us, and Codemasters are once again taking the opportunity to pair it with an in-game look at their upcoming title. With F1 2016 set to release in three weeks' time, this will be the final onboard hot lap before the sport's summer break and the game's release.
The last time we were given an in-game look at this year's title saw the defending three-time champion and Mercedes AMG driver Lewis Hamilton pace us around the Hungaroring circuit, the location of the first Formula One Grand Prix behind the Iron Curtain. Now the ever-talented Sahara Force India driver Nico Hulkenberg takes the virtual wheel to guide us through the twists and turns of the high-speed Hockenheimring circuit, host to this week's German Grand Prix.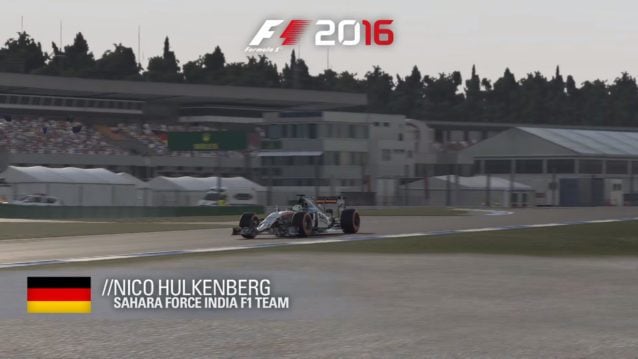 Redesigned in 2002, the track was shortened, doing away with the long forested straights in favor of tighter turns. The redesign was of course met with varying degrees of criticism, with some drivers and team principals preferring the older layout. Since 2007 the German Grand Prix has alternated between the Hockenheimring and the Nürburgring GP Circuit, whereas previously there were two GP events held in Germany every year since 1995 up until 2006.
F1 2016 will be releasing onto the PlayStation 4, Xbox One, and PC platforms on August 19th, one week before the Belgian Grand Prix. The title will return its focus to an in-depth career mode, and will simulate the feeling of the sport both on and off the track.
Remember to swing by our F1 games forum for more in-depth discussion.
See more articles on Gameplay Videos and Hockenheimring.