With the clock winding down until F1 2017's release, we've decided to take a look at last year's game. Particularly, what it did right, what it could have done better, and how this year's game goes above and beyond.
Formula One games have a lot to live up to. Often presenting players with a sprawling career mode, there's a surprising level of difficulty in getting things right. Featuring the cars and drivers of the 2016 season as you'd expect, last year's game had something extra up its sleeve.
Codemasters' 2016 game was an ambitious effort, further embracing everything the sport entails. Such features as manual race starts allowed players full control while launching off the line. While it may not compare to the real deal, it gives you an idea of what the drivers have to deal with every race weekend — a true appreciation for the skill involved.
There's an accepted culture for F1 in the real world and F1 2016 embraced this better than previous games.
What It Did Right
The graphics are an obvious standout. Following in the footsteps of 2015's overhaul, the 2016 game does away with dull color palettes in exchange for photorealism. Combined with the game's new time of day editor allowing you to tackle the claustrophobic corners of Monaco at night, there was plenty of eye candy to go around.
There are many things F1 2016 did well, and the game's focus on an extensive career mode is among them. Players are free to choose any of the 11 teams as a starting point. Earlier games limited the choice to back-marker teams, forcing players to earn their keep with the top teams.
While there's certainly an argument against this change, we appreciate the ability to jump right into a competitive car and go for broke. You'll either meet the team's expectations or they'll kick you to the curb the following season. Alternatively, there's the opportunity of taking McLaren and restoring the team's former glory with the new car upgrades feature.
Naturally the driving physics make the list as well. Striking a balance between being approachable and challenging, F1 2016 feels more nuanced than earlier games. Dynamic track conditions and weather factor into every race weekend, making every lap a gamble.
This becomes apparent when a sudden downpour forces players to make the decision of staying out or changing onto wet tires. Each track will "rubber in" over the duration of a race, which of course presents its own challenges. Tire marbles — worn pieces of rubber laid down after numerous laps — makes the outer track edges more slippery than expected.
Equally impressive is the game's immersion. Look, F1 has a lot going for it: fast cars, exciting races (when they happen) and controversy. F1 2016 immersed you in the spectacle of the sport in a way unlike its predecessors. Manual race starts added a much needed sense of uncertainty at the beginning of a race; a feature preceded by the return of another: formation laps.
Last seen in F1 Championship Edition on PS3, the warm-up lap prepared you to get off the line and into Turn 1 as quickly as possible, assuming you didn't stall. Driver rivalries added a new dimension to the game and offered a real sense of tension throughout the game's career seasons.
Additional features including avatar and helmet customization, safety cars and detailed telemetry all added authenticity to the game.
What It Did Wrong
F1 2016 is a two-sided coin. On one side, last year's game elevated the series to new heights, a difficult accomplishment for annual releases. On the other, there are a few puzzling decisions that leave us asking "why?".
While an officially licensed product there's one glaring omission that bugs us: a lack of official overlays. Make no mistake, this criticism isn't toward the 2016 game alone. Since Codemasters' series of F1 games began in 2009 the games have used custom on-screen displays. We may not know the exact reasoning behind this but it's a blemish on an otherwise promising surface.
Another issue is the game's steering response. We'll admit to not tinkering with every possible option, but with steering wheel in hand the cars aren't as responsive as imagined. There's an inherent understeer when quickly changing directions and while it may be mild, something feels off.
Continuing, a puzzling issue would result in a loss of force feedback when exiting pitlane. And despite the Logitech G27 wheel being announced as a supported wheel prior to the game's launch, it wasn't until a September patch where the peripheral was properly recognized.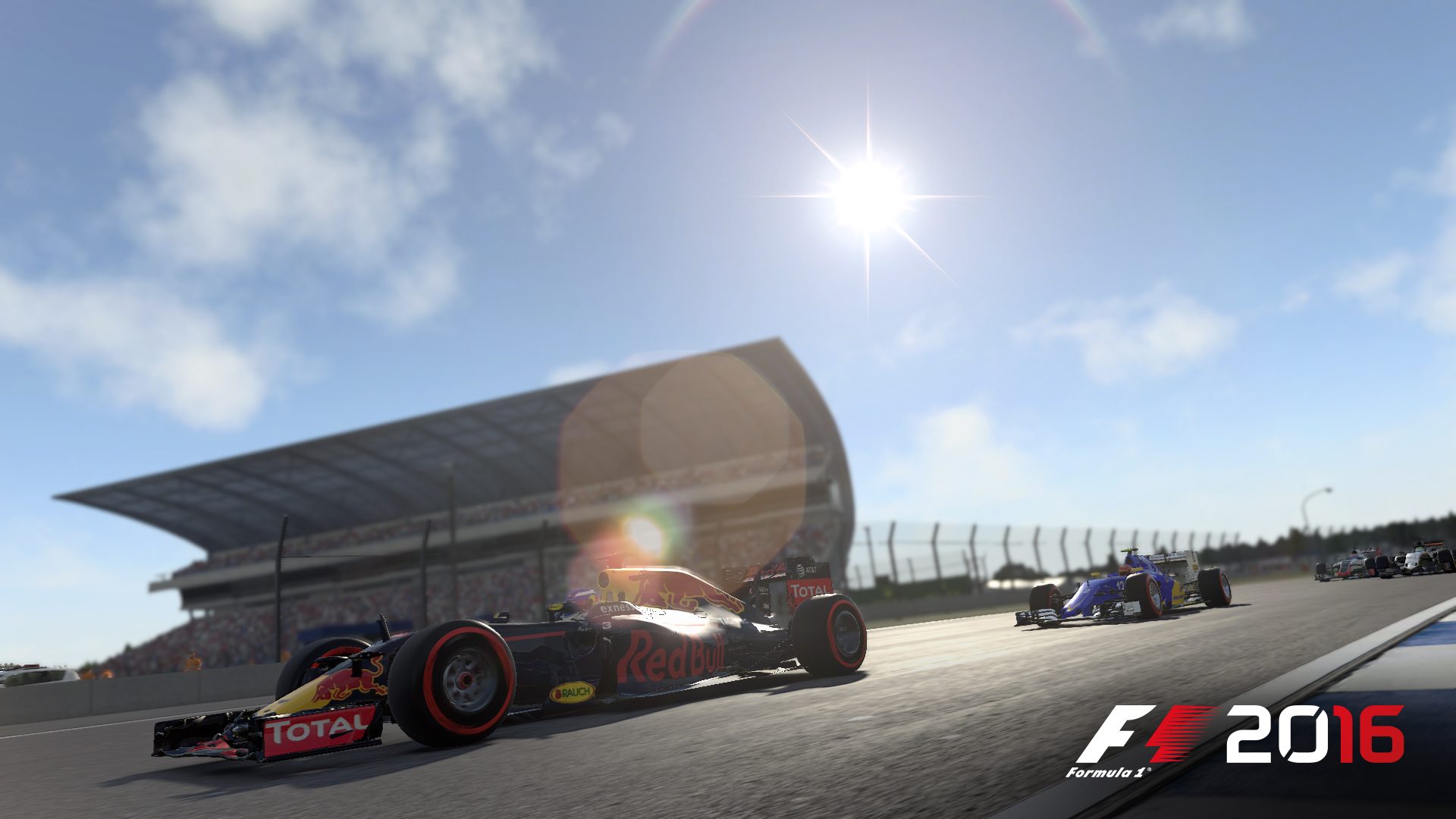 What F1 2017 Will Do Better
For everything last year's game did well, F1 2017 looks to up the ante one further. One such example is the return of cars from F1's past. Unlike F1 2013, the game's career mode prominently features the classic machines. The cars will be available to players through a series of invitational events throughout the season.
With 12 cars making up the list, recently topped off with four winning McLarens, players will have plenty to choose from. To borrow choice words, the distinguished dozen will also feature in other areas of the game. A recent gameplay trailer confirms this year's game will further expand career mode. If that weren't enough, the Research and Development system features over four times more upgrades than last year's game and is seriously in-depth.
This year's game will further improve the eye candy with the skybox and clouds dissipating as conditions improve. It's an impressive feat in all honesty, especially in the face of 2017's game vying for utmost realism. Perhaps the most impressive thing is a drying racing line. While not a new feature it only helps to cement that this year's entry means business.
Between intense night-time racing and new tracks — and no, your eyes aren't deceiving you — 2017's game will offer plenty. Look forward to our F1 2017 review next week!
See more articles on Retrospective Reviews.