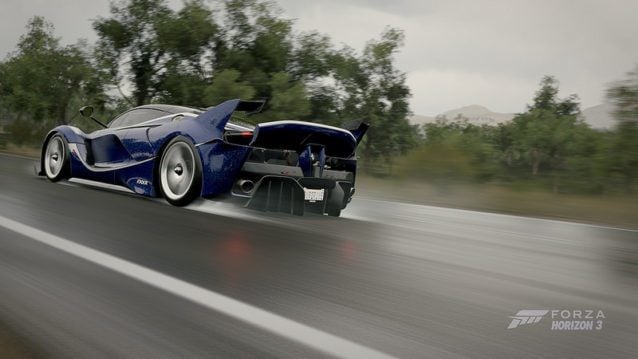 As gamers continue to get settled in with the acclaimed Forza Horizon 3, the cadence for the open-world racer's Forzathon kicks into high gear.
Just last week, the 1994 Nissan Silvia K's S14 was held for ransom and awarded to those who were successful in a series of drift challenges. For Round 3, 'getting sideways' is replaced with 'going fast', and compact drift machines have tapped out to a bevy of Extreme Track Toys.
As we have come to expect: test your skills with three challenges and be rewarded with experience points, credits, and — in our best "Price is Right" announcer voice — a new car!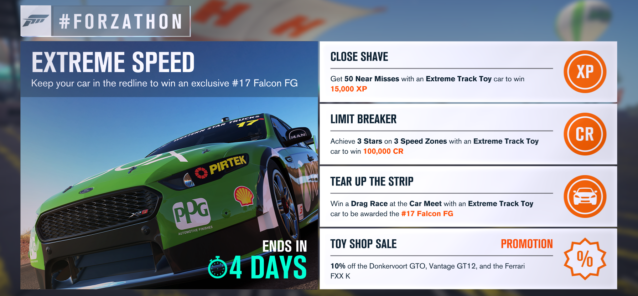 Close Shave: Get 50 Near Misses with an Extreme Track Toy car to win 15,000 XP
Limit Breaker: Achieve 3 Stars on 3 Speed Zones with an Extreme Track Toy car to win 100,000 CR
Tear Up the Strip: Win a Drag Race at the Car Meet with an Extreme Track Toy car to be awarded the #17 Falcon FG
Unlike Round 2's S14 prize car, the Ford Falcon FG X is not making an entirely new appearance in Forza Horizon 3. The V8 Supercar arrived via downloadable content in the All-Stars Pack with its Supercheap Auto livery. That said, this round presents the opportunity for gamers without the All-Stars Pack to acquire the elusive car, this one in the Xbox One Racing paint scheme.
Don't already have one of the Extreme Track Toys to give these challenges a whirl? Helping drivers get off on the right foot, prices on the Donkervoort GTO, Vantage GT12, and Ferrari FXX K are now discounted by 10 percent.
But, like the cars themselves, gamers need to act fast. These challenges are due to expire before the next set is due to arrive later in the week. For discussion and tips on these and all Forzathon challenges as they come and go, visit the aptly-named thread in the GTPlanet forums.
See more articles on Forzathon.