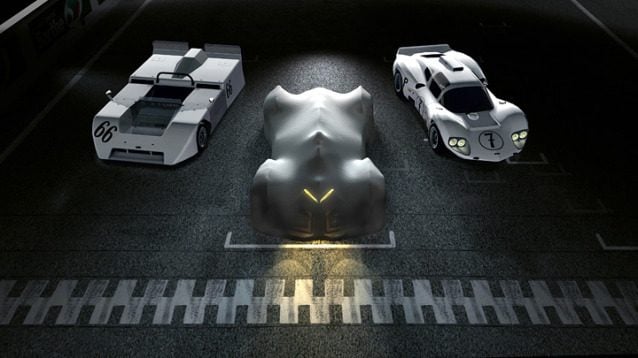 GM Design has surprised the entire auto industry today, announcing their Vision GT project – which gave them total creative freedom to design a concept car for Gran Turismo 6 – will be used to revive the historic Chaparral brand.
The "Chaparral 2X VGT Concept" will be fully unveiled at the Los Angeles Auto Show next week, November 21-30, and is set to be launched in the game this "holiday season".
Chaparral Cars was established by racer and engineer Jim Hall and F1 Driver Hap Sharp in 1962. Thereafter, Chaparral created influential racing cars called the 2 series, including the "2", "2C", "2D", "2F" and more, which shook up established racing series in the United States and in Europe.
The company has always been creative in the design of its cars, having forged innovations such as semi-monocoque chassis design, automatic transmissions with torque converters, hydraulically operated rear wings, and most famously, "fan cars" which create suction to provide better cornering grip.
The 2X VGT is expected to be just as creative, with Chaparral founder Jim Hall personally involved the design. More information on the car will be revealed over the next week; stay tuned.
https://www.youtube.com/watch?v=IgUniS7N1WE
See more articles on Chaparral, Vision Gran Turismo, and Vision GT.