Here it is; the latest content update for Gran Turismo Sport is live, bringing a dozen new cars, new track layouts, and more.
At 2.7GB, there's a fair amount of content to cover here, so let's break it down.
New Cars, You Say?
Up first are the new rides themselves. We had our own predictions when Kazunori Yamauchi first teased them last weekend, and largely they were accurate. But there's certainly some surprises in there (prices courtesy of GTPlanet member Downhill Dino):
Alpine A110 1600S '72 – 100,000 Cr.
Alpine A110 Premiere Edition '17 – 70,000 Cr.
Audi R8 4.2 FSI R tronic '07 – 166,700 Cr.
De Tomaso Pantera '71 – 200,000 Cr.
Dodge Challenger R/T '70 – 80,000 Cr.
Ford Mustang Mach 1 '71 – 50,000 Cr.
Gran Turismo F1500T-A – 1,000,000 Cr.
Lamborghini Aventador LP700-4 '11 – 400,000 Cr.
Subaru WRX STI Isle of Man Time Attack Car '16 – 300,000 Cr.
Subaru Falken Tires / Turn 14 Distribution BRZ '17 – 400,000 Cr.
Toyota Supra 3.0GT TURBO A '88 – 40,500 Cr.
Toyota MR2 GT-S '97 – 27,100 Cr.
The Alpine pairing is a welcome addition, and marks the video game debut of the new car. We expect it to be a serious force in the N300 class.
The Audi R8 is the first surprise; instead of the current, second-gen model, or even the V10-engined first-gen, it's the very first of the breed, the "base" V8. As a sort of spiritual successor to the original NSX in terms of everyday-supercar-ness, it's great to see here.
After seemingly ages of teases, both of the modified Subarus are sure to turn heads. Dai Yoshihara played it cool about his BRZ's inclusion last December, and the Isle of Man Time Attack Car was teased over a year ago by Polyphony's own Carter Jung. Now, about the Snaefell Mountain course…
Toyota continues its expansion in GT Sport, as one of the few modern racers to feature the Japanese giant. It gains the Supra 3.0GT Turbo A and MR2 GT-S, two mainstays of the franchise. The Supra is a slightly rarer version of a car that became many players' first rides in the original Gran Turismo, after all. The MR2 meanwhile holds no such distinction; this is very much the same car that's appeared in every previous title, though shows up here in "Super Premium" form.
But really, the big surprise of the pack is the Gran Turismo car, the F1500T-A. Think of it as a sort of modern-day interpretation of Senna's 97T from GT6, not least because of its specs. While the in-game info sheet doesn't list an engine displacement, the name is a giveaway, indicating a 1.5-liter turbo engine. At 986hp and 1,190lb, it's pretty close to the ol' Lotus. Expect plenty of open-wheel series to spring up with the car now available.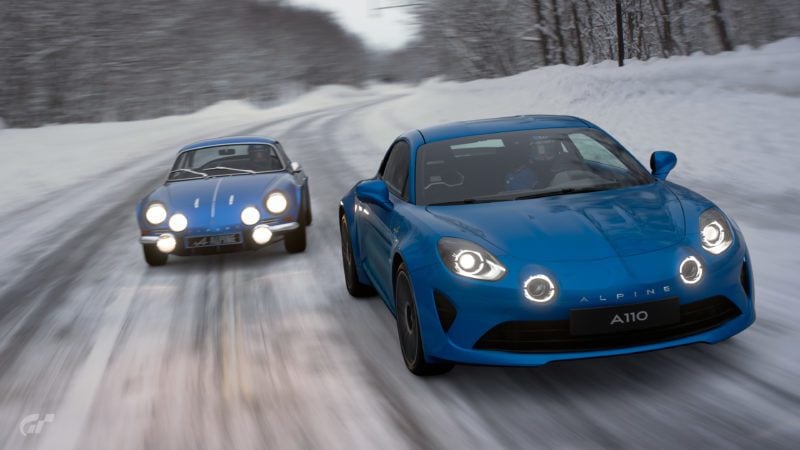 Additional Blue Moon Bay Layouts
Hallelujah! One of GT Sport's oval tracks has gained two much-needed infield layouts. Measuring in at 2.08 and 1.78 miles respectively, Blue Moon Bay's Infield A and B layouts provide players with new challenges to master. The second layout in particular is a surprise; it's a much more subtle change than you'd expect of an oval-turned-road-course, meaning high speeds are very much still a defining feature.
We'll have more thoughts on the new Blue Moon layouts in an upcoming article.
More GT League Events and Monza Circuit Experience
True to its word back in November, Polyphony continues to expand the single-player portion of GT Sport. This time around, three new championships have popped up (Stars & Stripes, Dream Car Championship, and F1500 Championship), while four existing ones have expanded.
Not only that, Circuit Experience has grown to include Monza, which was part of January's 1.11 update. Let GTPlanet's own Tom Brooks guide you through the Italian course in — what else — a Ferrari GT3 car.
On a semi-related note, the Arcade Mode track selection screen has been simplified to make it easier to browse the full roster.
Sport Mode Adjustments
An unexpected aspect of v1.13 is the most comprehensive change to Sport Mode since the game's release last October. Mercifully, Polyphony has added a griefing report system — good news for those that have to deal with the … less savory drivers out there.
Longer races naturally tend to space out the pack more. For those dealing with lapped traffic, the backmarkers will now ghost out on approach. You'll no longer have to worry about the folks a lap down taking you out.
The Sportsmanship and penalty algorithms have changed, which should result in plenty of experimentation by the community. Also in penalty news, players will now need to serve them promptly, as time will increase the longer a penalty stays on screen. Your current Driver Rating (read our guide on that one) will determine by how much this will happen.
Physics Changes, Livery Editor Updates, and More
Polyphony Digital has attacked several other aspects of the game as well. For the full official patch notes, you can click right here. As always, keep an eye on our GT Sport forums for any undocumented changes the community uncovers.
See more articles on GT Sport Game Updates.