We already knew that there was a GT Sport update coming this week — and quite the update at that. What we didn't know was the cars in the update, and there's some great news on that front now too.
Kazunori Yamauchi has posted his traditional 'silhouette' teaser Tweet. This usually clues the fans in to what to expect from the update:
明日、アップデート来ます。Update coming tomorrow. #GTSport pic.twitter.com/xNjwowbt5O

— 山内 一典 (@Kaz_Yamauchi) November 27, 2019
However, as is also traditional, one of the regional PlayStation Stores has revealed the precise identities of all five cars already. The first of these provides something of a surprise, with the return of a manufacturer many thought we'd never see again.
Since Porsche became available to more games thanks to the expiry of an exclusivity deal, the brand many developers chose to replace it had become more and more sidelined. Ruf Automobile, a company best known for high-performance cars built from body-in-white Porsche shells was the ideal substitute for the Stuttgart brand, as it gave games the chance to have cars that looked like Porsches — and performed better — without any hoops to jump through.
As Porsche has proliferated through games, Ruf's presence has diminished. Of those games with Porsche, only The Crew 2 also included Ruf.
Oddly, Sony aired an advertisement for its new Bravia TVs a few months ago, back in July. This ad included some scenes from Polyphony Digital's offices, and one of the monitors there showed an artist working on a Ruf CTR3. It seems that this was a wholly prescient event, as Thursday's update will include that exact car.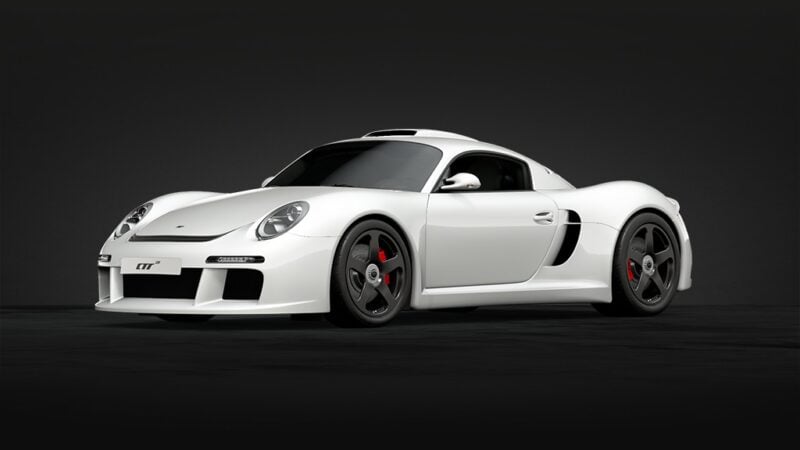 It's an interesting choice to represent the brand. Although Ruf does, as usual, base the car around Porsche technology, there is no direct analog in the Porsche stable. Most of Ruf's other cars are more obviously derived from Porsche models, such as the 996-based RGT and 986 Boxster-based 3400S, both of which appeared GT6. That could hint that Porsche has a veto that the Ruf-designed CTR3 manages to skip beneath.
The CTR3 is a pretty potent motor too. Weighing in at just about 3,000lb, the CTR3 uses a mid-mounted, twin-turbo, 3.7-liter flat six, good for over 700hp — knocking on the door of 800hp in the later Clubsport model. With the six-speed manual gearbox, the CTR3 will hit 60mph in around three seconds and run on to 233mph.
Aside from this fascinating return, the other cars are more familiar, with some returning faces and some others we've been expecting. For starters there's the Jaguar Vision Gran Turismo Coupe, which Polyphony Digital revealed at the Tokyo World Tour event, and GTPlanet founder Jordan Greer took to victory in its first race.
Along with that are a couple of road cars. There's an updated version of the Toyota 86 GT, known as the "Limited", which gains a few body modifications over the standard car, and the 2003 model of BMW M3. Unusually, this is the base model E46 M3 from that year, and not the limited run CSL or GTR versions that appeared in previous GT games.
Last, and by no means least, is the RE Amemiya FD3S RX-7. This heavily tuned example of the FD-generation Mazda RX-7 has also appeared in previous GT games, and its arrival coincides with the new Mazda GT Sport partnership. It's likely to appear under the Gran Turismo brand in the game however, like the similar Amuse S2000, and appear as an N400 road car.
The full list is as follows:
BMW M3 Coupe '03 (N300)
Jaguar Vision Gran Turismo Coupe (Gr.X)
RE Amemiya FD3S RX-7 (N400)
Ruf CTR3 '07 (N700)
Toyota 86 GT Limited '16 (N200)
As ever, there'll be a short maintenance period before the update arrives, during which you'll be unable to access the game's online features. That includes saving the game, so ensure you save manually well ahead of time.
See more articles on GT Sport Game Updates and RUF.