Today has been something of a day for leaking GT Sport car news. However, while a short list of vehicles for the next game update appearing on the New Zealand PlayStation Store is almost something we expect by now, this next leak… isn't.
Sony is, unsurprisingly, using GT Sport to advertise its latest line of Bravia Master home television sets. Given the game's graphical qualities, including HDR and that famous BT.2020 colorspace, it's the ideal standard-bearer for the latest TV tech. Or even beyond-latest TV tech.
The newest advert for the TVs features on the GT Sport website. It includes comments from a number of Polyphony Digital staff, including the visual artists, on how the new Bravia shines a light on their work in the game.
However the segment seems to shine slightly too much light on one artist's work. At roughly 1'03 into the video, as shown above, we see one of the vehicle artists working on a car. There's a desktop full of high quality photographs of a vehicle, from the broad overview to detail shots of components from all sorts of angles — as per the usual PD vehicle image capture process.
The vehicle in question though is not one that's in GT Sport yet. In fact, it's from a brand that isn't even in the game right now — although featured in Gran Turismo games of old. The car on the screen is the CTR3, from German high-performance brand RUF, and the file folders clearly show that the artist is working on GT Sport.
In case you don't remember RUF, game developers used the brand throughout the 1990s and 2000s as a replacement for Porsche. It was a highly convoluted situation, but in essence one developer — Electronic Arts (EA) — held an exclusive license for the Stuttgart manufacturer and either didn't grant other developers access or charged a fair fortune for doing so.
RUF's business model allowed developers to cheaply sidestep the requirement. The company created its own line of models that it built into "body-in-white" — a completed body and chassis with no other components fitted — Porsche vehicles. Porsche would ship the naked chassis to Pfaffenhausen, 70 miles away, as it would to a race team, and RUF (pronounced like "roof") would then build the car to its own specifications.
This inevitably generated a vehicle that looked almost identical to a Porsche, although the performance is commonly several steps higher — leading to the misconception that RUF was merely an aftermarket Porsche tuner (although it would also tune your Porsche). However it was only the looks that really mattered to game developers, and as a result games from Gran Turismo 2 to The Getaway featured RUF in lieu of Porsche, giving the tiny brand enormous fame.
That all changed with an event we refer to as The Porschening. In late 2016, that exclusivity deal ended and Porsche started appearing everywhere. That included Assetto Corsa and, in 2017, GT Sport.
At the same time though, RUF began disappearing from the gaming sphere. Almost no car game launched since the Porsche deal with EA included RUF, with the exception of The Crew 2 in 2018. The brand appeared in GT Sport's early build menu images, but was absent come launch.
It seemed that either game developers were forgetting about RUF now they had Porsche, or that Stuttgart was trying to muscle Pfaffenhausen out by way of a "them or us" condition — although when Assetto Corsa, which launched in 2014, added Porsche in 2016 it did so in addition to the existing RUF vehicles. When we spoke to RUF in 2017, it said it "may be scheduled to appear in some future games", but declined to specify which.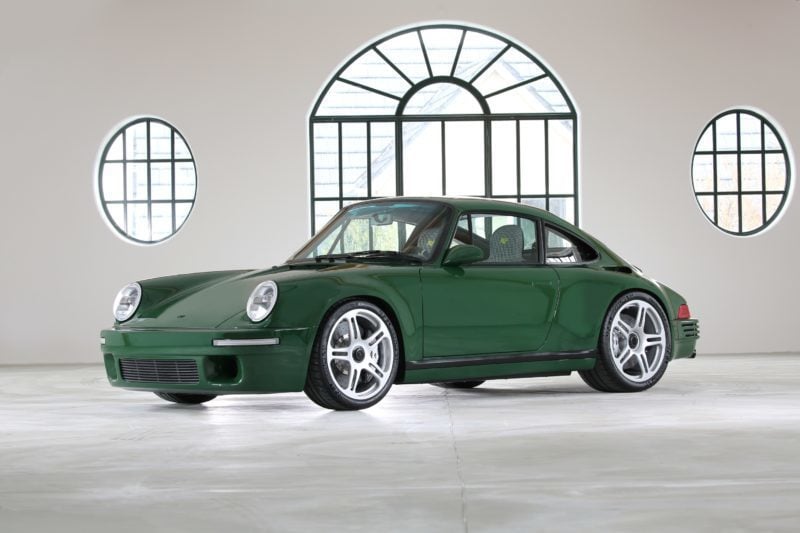 This little glimpse of the RUF CTR3 proves that Polyphony Digital was, at one point, working on RUF vehicles in the game. However we'll need to sound the horn of caution, as we have no idea when filming took place for this particular piece of footage.
Several of the video segments are new, but some of the in-game action is not. This could mean that Sony has spliced the video together from a selection of clips shot at different times. Consequently this may be recent footage of an artist working on a car we've not seen yet, or a pre-launch clip before PD cut the brand entirely.
We've approached RUF Automobile UK for comment, and in the meantime you can watch the whole video below:
Thanks to queleuleu for the tip!
See more articles on RUF.