Britain's famous Goodwood Festival of Speed is featured prominently in Gran Turismo 6, and the game was a fixture at last year's show.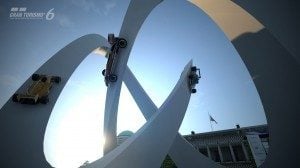 This year, it seems the partnership is expected to continue, as Goodwood has made a special announcement to note the in-game track will be updated to include the 2014 "Central Feature" highlighting "120 Years of Mercedes Motorsport".
The new "central feature" will be revealed simultaneously in both the real world and GT6 through a game software update set for June 26, 2014, at 10pm local UK time.
This will likely remove the Lotus sculpture which is currently featured in GT6's rendition of the hill climb course. Thanks to Furinkazen for the tip!
More Posts On...
The original comments for this post are no longer available.