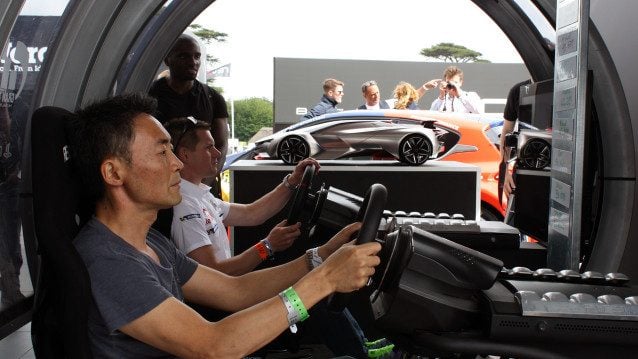 It's one of the most famous automotive gatherings on the planet and in recent years the Goodwood Festival of Speed has been taken over, bit by bit, by fictional concept cars from the Vision GT project of Gran Turismo.
Following on from last year's headline unveilings of the Aston Martin DP100 and Nissan Concept 2020 Vision GT cars, one of the stable of virtual prototypes has this year made it onto Goodwood's iconic central feature – a flamboyant sculpture tens of metres high adorning the lawn in front of Goodwood House, celebrating the manufacturer of the moment.
With Vision GT at the fore, GTPlanet was invited in for a chat with Kazunori Yamauchi behind the Infiniti stand – the manufacturer itself celebrating its own Vision GT – about the project.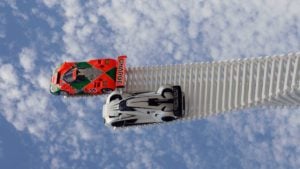 GTPlanet: We're here at the Goodwood Festival of Speed; we've seen lots of the Vision Gran Turismo cars made 'real' here – what do you think and feel when you see these virtual cars made into real ones?
Yamauchi: I work imagining a scene where something like that comes to life – that's what the project is for – but when it actually happens it's always incredible. Yesterday I saw the [Mazda] LM55 Vision Gran Turismo in the sky for the first time… Nice!
GTPlanet: If GTPlanet was to create a VGT car what specifications and parameters would you need to create it in the game?
Yamauchi: To create the VGT cars in GT it requires all the parameters you'd need for a real car, but at the same time because the VGT cars are really technically advanced cars that have some technologies that are not of the present in order to recreate those kinds of features in the game you need the principles and the mechanisms of the control algorithms that are required to control that kind of technology.
GTPlanet: So what's the biggest challenge in bringing a new car to the game?
Yamauchi: Unlike a production car, the concept cars have a lot of details that are undecided. There has to be a lot of communication with the designers to decide on those kind of details. That communication is a lot of work – you have to ask things like 'This carbon surface, what kind of finish do you want on it?' or 'What layers of colours went on top of each other to make this dark grey metallic colour?'. That's probably the hardest part of the modelling. In terms of the mechanical aspect, the physics is also a very difficult issue because of the new features that go into a lot of these cars we have to make it brand new for that particular car.
GTPlanet: How do you determine how the fictional VGT cars would drive in real life?
Yamauchi: We get a scientific explanation from the auto maker's engineers and they explain to us this is how a certain vehicle or technology should function. We try to implement that into the game.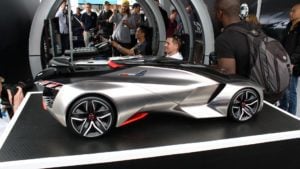 GTPlanet: None of the VGT cars so far has had a full interior cockpit view. Why is that?
Yamauchi: This time around when we've been doing the current VGT cars, the schedule has been very tight between the design and the actual release of the cars, so often there wasn't enough time to model them. On other occasions the manufacturer hasn't really provided us with an interior. But we intend to implement interiors for all of the VGT cars.
GTPlanet: What's the current status of the Bertone VGT car?
Yamauchi: The company has gone now, so it's really difficult. It's really unfortunate – we had high expectations from the design.
GTPlanet: Are there any other manufacturers that weren't previously in the VGT schedule to be included in the future?
Yamauchi: I can't say which one, but yes. We're still having more and more cars being added – some manufacturers want to make a second car even though they've already released one!
GTPlanet: Have you been a little bit frustrated with the speed of some manufacturers to get their cars to you? The original plan for VGT was to have them all in a year.
Yamauchi: It's really alright. Good design takes a lot of time and it shows that they're serious about what they're doing. I want to be flexible in accommodating that.
GTPlanet: Away from VGT, how do you decide which cars you want to put into a Gran Turismo game?
Yamauchi: Firstly we get the news of new releases and new designs that auto makers are working on. Then there's cars that have historic importance which takes some research on our side. There's also cars that go on the forums – top 30 or top 50 lists – and we kind of balance between them all.
GTPlanet: Do you find that manufacturers are more willing to let you model newer cars than older ones though?
Yamauchi: Yes, sometimes!
With thanks to Kazunori Yamauchi, Translator-san, HPS Jardine, Infiniti GB and SCEE.
More Posts On...
The original comments for this post are no longer available.