On the eve of the highly anticipated Gran Turismo 6 demo and the start of GT Academy 2013, 2012 champion Steven Doherty offers some advice and behind-the-scenes insight into what it's like to win the competition in an exclusive interview with GTPlanet.
When the cameras aren't rolling, what has life been like for you? What types of things are you doing behind the scenes?
"After September, through the 24 Hours of Dubai, we were working pretty much every day, between psychology sessions, media training, actual races, and fitness training days. I think we had a total of a week off over the course of the three months combined. We were quite busy!
"After Dubai they told us we'd be doing the Blancpain season. The GT3 cars are a whole different world compared to the GT4 so to go into that car I had to keep training really hard. That car is a lot hotter inside and a lot harder to drive.
"It's going to be one hour stints in the Spa 24 hour race, so that's six stints and it's going to be really hard to do all in one day, and I'm still training quite a bit for that."
How do you prepare for something like that? Are you spending time in simulators, and do you do that length of a stint as you would in the actual race?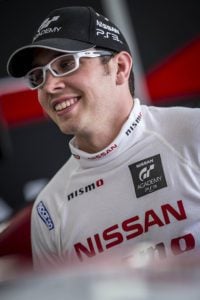 "In the simulators, we are just now starting to do that, with the same stints as we would do in the real car. At first it was just for track learning.
"Actually, I practiced quite a bit on Monza in Gran Turismo 5 before I actually raced there. In my opinion it's a better sim than the professional, high-end simulator system that we used in our training!
"I was practicing in the Super GT GT-R, which is supposed to be about 10 seconds a lap faster than our GT3 car in real life. Sure enough, it was also 10 seconds quicker in the game!"
Has the experience of winning GT Academy been what you expected? What's been your biggest surprise after becoming the 2012 champion?
"The biggest surprise was to know that I would be racing in Europe this year.
"Bryan [Heitkotter], he did a few races last year but wasn't too busy, and I dedicated pretty much everything I have before Dubai.
"Obviously, it paid off, and I never imagined I would be driving at Monza, or the Nurburgring, or racing a GT3 car at Spa!"
It's very clear that your weight and fitness has improved dramatically. What types of things have you done in training?
"The main thing I started before was the diet – you have to eat a lot better to have the energy levels to train.
"Last week, I trained every day for two hours a day. I really worked hard. I will be here through July, but the time and dedication spent away from home really does pay off."
Have they involved you in GT6 development at all?
"We found out a couple of things yesterday, but up until then they've kept us in the dark! I'm still looking to get some free DLC for GT5!"
What would be your advice for people competing this year? Would you have done anything different in your preparations?
"Start training early, as soon as you can. I started about a month and a half before Race Camp, but even that wasn't enough time.
"If you are serious about it, start training and play the game as much as possible. I think the main thing was that I never really believed that I could do it – I just kept thinking when am I going to get kicked out? Do I really belong here?
"But, if you are going to try it, believe you can win, because really, anyone can win. I wasn't the fastest guy or the most fit, but when it counted I performed and proved to everyone that I wanted to be here, and wanted to do it and wanted the job. So, if you have that determination, and if you want to win, believe in yourself because you really can do it.
"When I had that dog fight at Race Camp, the reality of 'If I don't win, I'm going home,' clicked in me and that's when my real potential came out. I won the go-kart racing and I had some good confidence from that, like maybe I did belong here. I did well in the drifting and the truck stuff, but in the other benchmarks I didn't perform as well."
Were you surprised by the quality and skill level of the other competitors when you got to Race Camp?
"Yeah, I was completely surprised because after I talked to people at the National Finals, it seemed like almost nobody had any actual in-car driving experience. I raced oval track and they are just cars that pretty much anybody can race with $25. That was my only experience, but I did at least have that.
"Then, there were people like Matt, who was still really young, but he had done some track days and had more experience than me."
Do you keep in touch with a lot of those guys from Race Camp?
"A few of them, yeah, probably Erik more than anyone. We got along really well. I talked to Matt and Darwin recently as well. We are pretty good friends. I was sad to see him go, him and Steve Diem; we pushed each other and were each other's biggest fans.
"Everyone from San Diego got along really well, though; it was surprising just how awesome everyone was. At Race Camp, everybody got along and hung out, even after they were eliminated." 
One last question – do you ever want to see Twin Ring Motegi again?
"Haha! If I was actually there, it wouldn't bother me! I put so many hours and hours of practice in on that track, to the point I was really burned out. I missed the finals in 2011 by just six hundredths of a second, and that disappointment of being so close almost made me angry, but I didn't put the amount of hours into the competition that I did in 2012.
"I just knew I would have to play it until I couldn't play it any more. I think I qualified 25th – not the fastest but it was enough, and now, here I am!"
More Posts On...
The original comments for this post are no longer available.