With the April update for Gran Turismo Sport, players can add another Toyota road car to their garage. This brings the total up to 18 Toyota models in Sport. No other modern racing game comes close to that figure, with some even missing the brand altogether. It forces us to ask the question: does Toyota have a console-game exclusivity deal with Polyphony Digital?
Unfortunately, there's no official answer to this question. But considering the evidence, it does look likely, at least for Toyota's road cars.
The first bit of evidence surfaced way back in July 2017. Turn 10 unveiled the car list for Forza Motorsport 7, which is an exciting time for any racing game. As we pored over all 700 cars, one brand came up a little light on content: Toyota.
Yes, there were a handful of race cars available. However, when it came to road cars there was nothing, save for one heavily modified Toyota Hilux from Arctic Trucks. This left us a bit puzzled, though at the time it was nothing new. After all, VW went missing from Forza Horizon 3.
A few days later Turn 10 community manager Brian Ekberg came in to shed some light on the missing brand. As we expected, it came down to a licensing issue. However, it seemed a bit strange considering a few days before the FM7 car list, the GT Sport list showed a handful of Toyota road cars.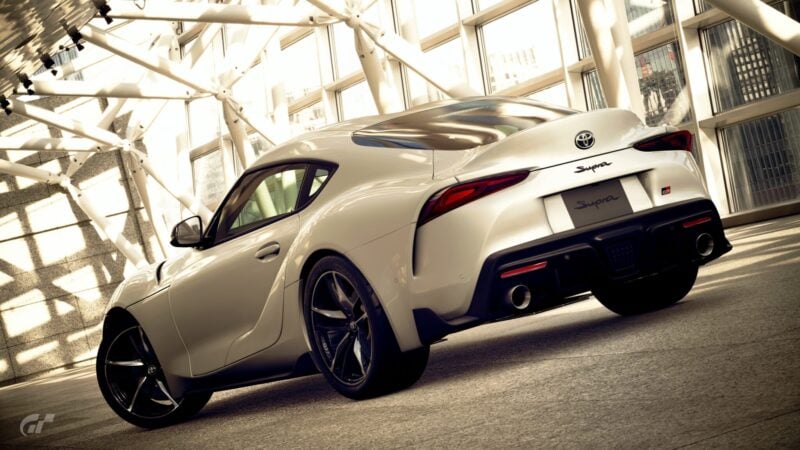 As the summer of 2017 wore on, we waited for the next car roster unveilings in the fall. But in August, an employee for Ghost dropped another bombshell on us. In a discussion on Reddit, the employee stated that Toyota would not find its way into Need for Speed Payback.
This rumor was then later confirmed when EA dropped the official car list for the game, sparking a worrying trend.
We did get a brief glimmer of hope with Project Cars 2 though. When Slightly Mad Studios released the car list for its game, it contained one Toyota road car, the GT86, which had appeared in the original game too. However, that glimmer soon went dark. Since its release, PCARS2 had found itself with the same Toyota drought as other titles.
Still, more game debuts were in store, which meant more chances for Toyota to appear. Unfortunately, it never happened. Titles like V-Rally 4, The Crew 2, Dirt Rally 2.0, and even Forza Horizon 4 were all missing Toyota road cars — even Lexus in the latter's case.
While other games went without Toyotas, GT Sport continued to nail top-notch content from the brand. From the 2000GT to the MR2, several fan-favorites made a showing. Three generations of Supra, including the newest one, found their way into Sport as well. There's even a dedicated esport event for the A90 Supra. There are probably more models lined up for future content updates too (if PD needs a list, we can help).
We should point out that this doesn't seem to affect the realms of mobile and arcade racing games. Titles like Assoluto Racing and Wangan Midnight Maximum Tune 6 still feature plenty of Toyota road cars. Neither is much of a direct competitor for Gran Turismo, however.
Due to all this, we can't help but think PD and Toyota are in some sort of exclusive agreement. After all, why would Toyota want to leave its cars out of all these other games while keying in on just one? It's not like other studios aren't asking Toyota to license its cars to them either.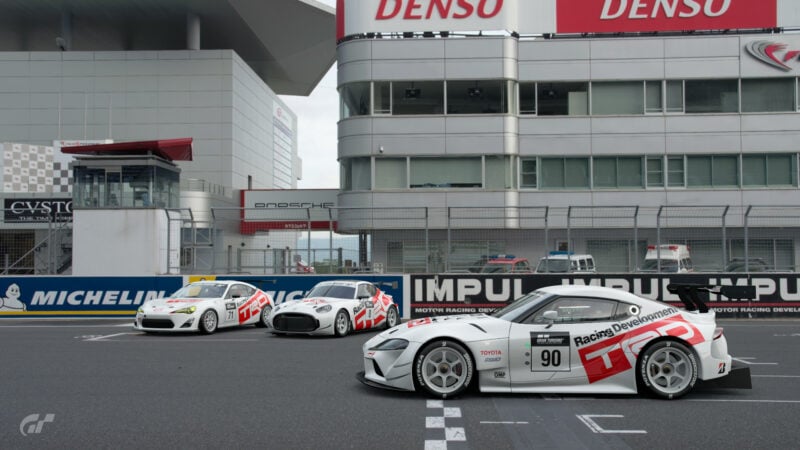 So assuming this is true, what does it mean for the sim racing genre? Ask any sim racing Porsche fan about the time from 2000 through 2016 and you'll get an idea.
For those unfamiliar with Porsche's licensing debacle, we'll give you a quick history. Around 2000, Electronic Arts secured the exclusive license for Porsche, which dried up content for the German automaker virtually everywhere. This lasted for 16 long years before the partnership dissolved and the flood gates opened. Now virtually every racing game has at least one Porsche model in it.
However, to offset the lack of Porsche we made do with Ruf. While not a direct replacement — especially in terms of racing history — Rufs looked and sounded like Porsches, while also giving players a look at an interesting aspect of automotive history.
Unfortunately, Toyota does not have something comparable to Ruf. Yes, Arctic Trucks makes some unique models that are available in Forza and the BMW Z4 is more or less the new Supra, but that's it. There are no alternatives for the MR2, Celica GT-Four, or the Sports 800.
So what can sim racing fans do? For Gran Turismo fans, the answer is to just keep on playing. But for those that aren't, you'll need to play older titles to access Toyota models. PC players have the strong third-party modding community, which offers plenty of options. That's about it for now, though.
Hopefully, if there is some sort of exclusive deal, it ends sooner rather than later.
Have your own theory on why Toyota isn't showing up in other games? Let us know in the forums!
Featured image courtesy of Rossi1196.
See more articles on Opinion Piece and Toyota.