The Forza Rewards program, which provides in-game bonuses as an incentive for gamers' loyalty to the Forza franchise, was recently updated ahead of the release of Forza Horizon 3.
As anticipated, details indicate how Forza Horizon 3 gameplay will help drivers boost their rankings; meanwhile, the maximum level has been increased to Tier 11. Before the newest Horizon title drops, Forza fanatics can top out at Tier 10 through the combined score of nine different titles, dating back to 2007's Forza Motorsport 2 and including the more recent release of Forza Motorsport 6: Apex.
The challenges for Forza Horizon 3 follow what has become a standard formula of tallying each gamer's number of days played, miles driven and other feats. It is worth noting that, with the simultaneous release of Forza Horizon 3 on Xbox One and Window 10 PCs, progression on either platform will combine for one score and not be doubled.
Earlier this year, Turn 10 Studios announced the Tier Rewards Cars for gamers going into Forza Horizon 3. Here's a reminder of what freebies to expect, depending on your ranking:
Tier 2: 2005 Honda NSX-R
Tier 3: 2003 Nissan Fairlady Z
Tier 4: 2016 Audi V10 plus
Tier 5: 2012 BMW M5
Tier 6: 2009 Ferrari 458 Italia
Tier 7: 2013 SRT Viper GTS
Tier 8: 2013 McLaren P1
Tier 9: Lamborghini Hurácan LP 610-4
Tier 10: 2017 Ford GT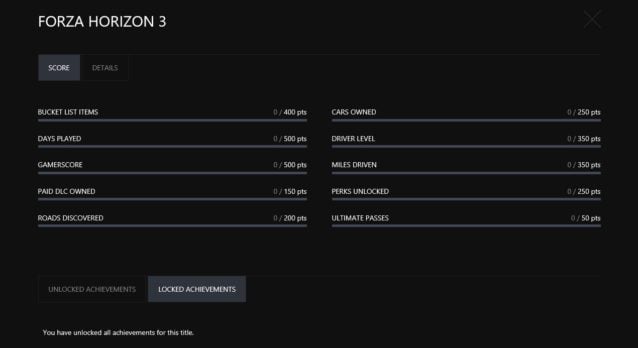 To check you Rewards status, visit ForzaMotorsport.net or download the Forza Hub app for Xbox One and Windows 10 PCs.
Now, where do you fall amongst the ever-expanding number of tiers? What are your plans to increase your tier level before picking up Forza Horizon 3? Share with us in the comments below.
Feature image courtesy of AudiMan2011.
See more articles on Forza and Forza Rewards.