There's only one thing left to decide in the 2020 FIA Certified Gran Turismo Online Championship season, and that's who the Nations Cup champion will be.
Three races stand between one driver and the overall title and whoever wins will be a new name on that very distinctive trophy. That's because neither the first champion, Igor Fraga, nor last year's winner, Mikail Hizal, will play any role in this year's final. Nonetheless, there's a very high standard of competition, and several names who could lay claim to the title.
The favorite is most likely Takuma Miyazono, who's been in imperious form so far this year. Miyazono is undefeated across all of 2020's finals events, winning the World Tour in Sydney, the Asia-Oceania Regional Final, the Toyota GR Supra GT Cup, and — just yesterday — the Manufacturer Series with Team Subaru. He carries 11 points into the event — more than any other driver — courtesy of his Sydney win and Regional Final rank, and should Miyazono win, he'd be the third driver to hold both titles simultaneously, but the first to do it in the same season.
However there's plenty of other champions waiting in the wings. Miyazono's biggest rival is probably Cody Latkovski, the Australian driver who beat him to second place in last year's final. He also has to contend with countryman Ryota Kokubun, winner of the 2018 Asia-Oceania final and World Tour Tokyo 2019, who might have a familiarity advantage with the Mazda RX-Vision car used in the final race courtesy of his Manufacturer Series exploits.
Europe's champion Coque Lopez is another driver with podium pedigree and good title chances, along with fellow Spaniard Jose Serrano who only just missed out in the Supra Cup two days back. In fact the entire European contingent, including Valerio Gallo, Patrik Blazsan, Baptiste Beauvois, and Giorgio Mangano, is as strong as they come.
Canada's Andrew Brooks is overdue a spell of good luck, and he tied in the Americas final with Angel Inostroza and Adriano Carrazza — with Carrazza winning courtesy of his better final race result. Along with Lucas Bonelli, who put in some top drives and won his race in Manufacturer Series yesterday, another Americas region champion is certainly a possibility.
We'll see three races during the event. The first will put players into the new Toyota GR Yaris RZ at Fuji, before a race at a wet Tokyo Expressway East in the Porsche 911 RSR Gr.3. As usual, a double-points event will close out the final, with players taking the Mazda RX-Vision on a ten-lap endurance race at Circuit de la Sarthe.
All the action gets underway at 1300 UTC (convert to your time here) on Saturday, December 19, and you can watch in full below:
The stream is also available in six other languages if you'd prefer:
Competitor Guide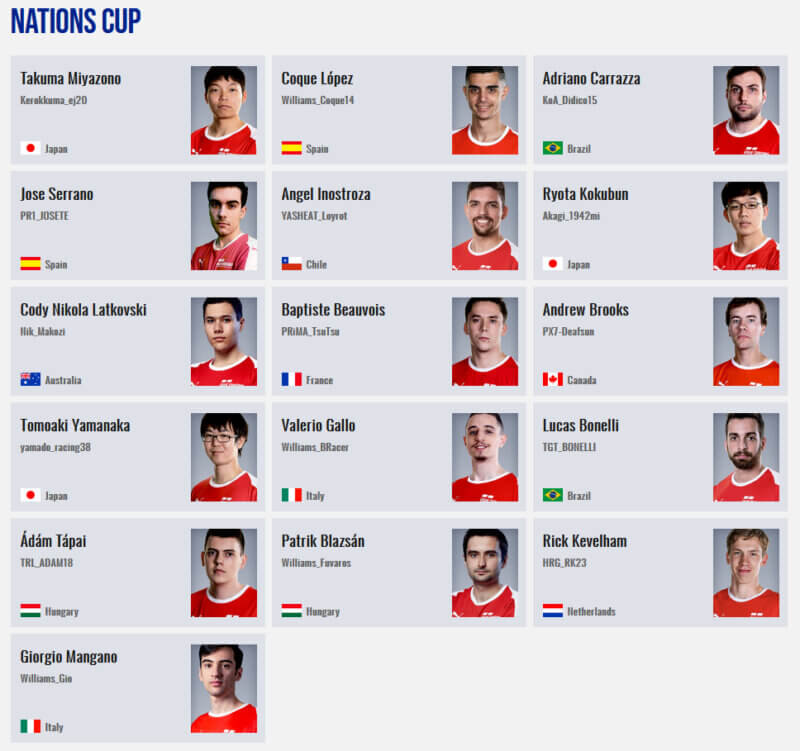 See more articles on 2020 FIA GT Championship World Final.