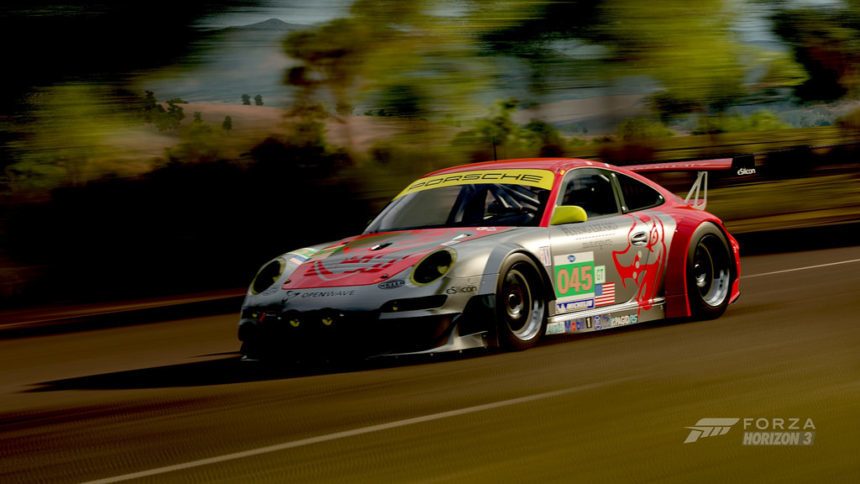 This weekend's Forzathon events are now live. Players will get the chance to go mental off-road with the selection of driving challenges.
Off-Road Thrills
Under the guise of "Heavy Duty Steering", the theme is evidently clear. All challenges revolve around driving on the edge, with most also relying on the use of off-road vehicles. The usual XP, credits and wheelspins are offered to players but the star of the show is the chance to win the Porsche #45 Flying Lizard 911 GT3 RSR.
The racer certainly stands out from the crowd in Forza Horizon 3. Flying Lizard's monster is the successor of a two-time GT2 championship winning machine. Whilst fellow drivers could be hooning some of the latest additions, this would be a welcome arrival to any driver's garage.
If you're looking to add some motorsport flare to your car collection, check out the "Night Heat" event below:
Suspension Test – Complete 3 Races in an Offroad vehicle to win 3 Wheelspins
Breaking New Ground- Perform 20 Wreckage Skills to earn 55,000 XP
Night Heat- Win a Street Race to earn the Porsche #45 Flying Lizard 911 GT3 RSR
Mud Party – Complete 3 Playground Games in an Offroad vehicle to receive 120,000 CR
The challenges went live on August 18 and will run through to August 21. For all the latest information on this month's Forzathon offerings, keep an eye on our dedicated thread.
Header photo credit goes to Popluxe Cowboy.
More Posts On...