http://vimeo.com/117585188
Since the Gran Turismo 6 "Track Maker" was first announced with GPS and mobile app compatability, it's been one of the game's most highly anticipated features. It's also been one of the most mysterious – aside from Kazunori Yamauchi's mention of beta testing last year, we've heard next to nothing about it – until now.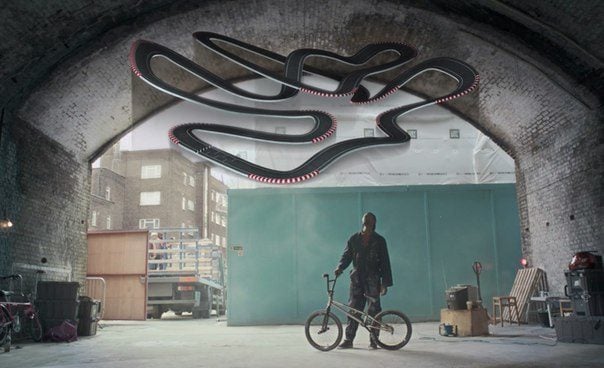 The UK-based video agency Pulse Films has quietly published a 1-minute, 8-second commercial for the Track Maker to their creative portfolio on Vimeo. The ad features a man doing tricks on a BMX bike, whose motions are then drawn into the shape of a track. The text reads "design your own track", "with the new GT6 app you can build your own circuits", and "the world is your track", which is then followed by brief gameplay footage and the GT6 logo.
Pulse Films and Ninian Duff, the video's director, were commissioned by the London-based creative agency Brothers & Sisters to create ads for Sony Europe when the game was released in 2013. Other videos in the series include "Gran Turismo 'Beat'" and "Gran Turismo 'Dance'".
Although this latest ad, Gran Turismo 'BMX', appears to have been produced around the same time (it even includes the now-dated #GT6IsComing hashtag), it was only published to Vimeo and Pulse's web page a few weeks ago. It was left unnoticed until it was discovered by GTPlanet user Dionisiy earlier today.
Because the video has not been mentioned or shared through any official Gran Turismo marketing channels, it's hard to know what to make of this development. The "Course Maker", however, remains prominently listed as an upcoming GT6 feature on Polyphony Digital's official website for the game, so we can only presume it's inching closer to release.
See more articles on Advertising, GT6 Course Maker, and GT6 Marketing.