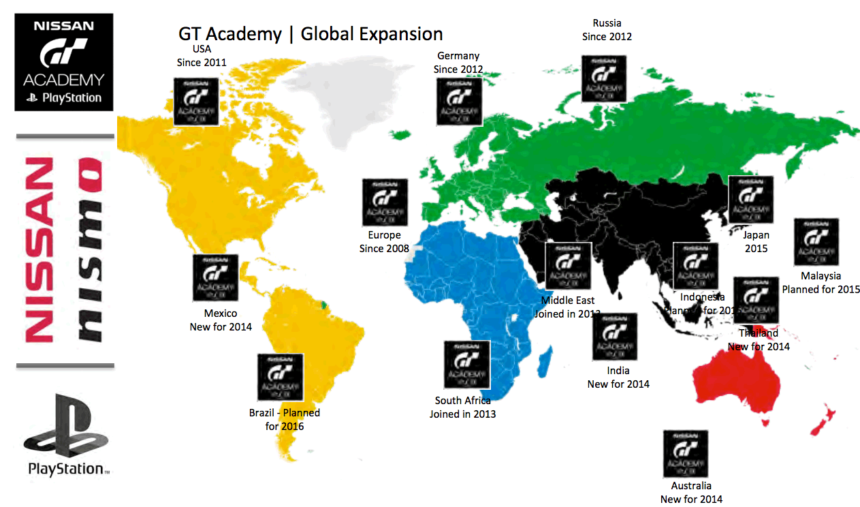 A document hosted on the FIA's official website appears to reveal GT Academy's plans for global expansion over the next few years, bringing the competition to several important markets for both Nissan and the Gran Turismo brand.
New regions for 2015 are set to include Indonesia, Malaysia, and Nissan's native Japan, while competitors in South America will have to wait one more year for GT Academy Brazil in 2016.
Of course, it is important to note this is not an official announcement, and Nissan's plans could certainly change. These new countries were teased, however, on a map shown in the first global GT Academy 2014 trailer released earlier this year.
The document shares several other fascinating statistics about the scale of the GT Academy program: it has now hosted over 4 million worldwide participants, who have driven over 1 billion virtual miles in the competition. GT Academy television programs have also been broadcast in over 160 countries to more than 100 million viewers.
It is curious to see such a document hosted on FIA's servers. The world's governing body of motorsport will no doubt be taking a very close look at GT Academy, as it plans to host its own officially sanctioned virtual races in Gran Turismo with the FIA Online Championship next year.
As always, stop by our GT Academy forum for more discussion with other competitors, many of whom are already preparing for the season ahead.
Thanks to gm matthew for the tip!
More Posts On...
The original comments for this post are no longer available.