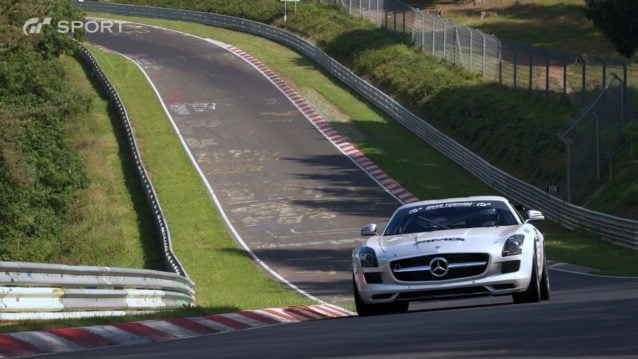 Last month, the GTPlanet community was quick to take note of what sounded like an improvement in Gran Turismo Sport's vehicle audio design. Sure enough, amidst all the latest conversation about image resolution, HDR, and PSVR capability, a report from Sony's PS4 Pro event in London seemingly confirms Polyphony Digital's progress in the audio department.
"Unlike the digital drone of past Gran Turismo games it at last feels like you're inside a complex, noisily mechanical piece of engineering," Eurogamer's Martin Robinson recounts. "Elsewhere, a replay featuring a bevy of prototype cars displayed a diversity of engine notes, from the turbo diesel whine of an R18 to the throatier V8 of the Toyota TS030."
This is all rather promising for those who have longed for better sound effects in the Gran Turismo franchise. However, Robinson shares his findings with the caveat that these improvements are not on par with other racing titles, but still better than previous GT offerings.
It was in 2014, following the release of Gran Turismo 6, that Polyphony Digital publicly announced its effort to beef up its sound team. By 2015, the Sony studio had recruited Forza Motorsport Audio Lead Mike Caviezel to step in as its Senior Audio Lead. Recent observations regarding the improved sound presentation in Gran Turismo Sport demos may indicate that the impacts of Caviezel's contributions are just now becoming unmuted.
Robinson goes on to share that Kazunori Yamauchi, the creator of Gran Turismo, appeared especially proud of headway, as it relates to sound. At a point during a presentation, Yamauchi turned up the audio before admitting that there is "still more work to be done."
This was not be the only curious comment Yamauchi provided at the event which, as a whole, spotlighted the future of PlayStation gaming.
"In terms of the release cycle for Gran Turismo, we're on track as usual," Yamauchi remarked to Robinson's question asking what takes the team so long. Unfortunately, this case of being "on track as usual" is contradicted by a missed release date that once had Gran Turismo Sport scheduled to arrive this month.
On the other hand, fans waiting in anticipation for the release of Gran Turismo Sport may find solace in hearing from those other than Sony's spokespeople that improvements are being made. Still, the platform afforded in London did not result in a newly announced launch date, even after a strange exchange at a South African gaming convention one month ago.
For the very latest in Gran Turismo Sport news, keep up-to-date here at GTPlanet and at our official Facebook and Twitter pages. Also, join the discussion in our Gran Turismo Sport forum.
More Posts On...
The original comments for this post are no longer available.