Thanks to some computer difficulties, the Photomode update just wasn't possible last week, but we're back… and just in time! The knockout-style Tournament is in it's semi-final round, with only four users left for each division. And, of course, we've got our weekly competitions, five in total, that are open to any registered GTPlanet member. Want to take part? Read on!
(Clockwise from top left: ijkhk4, tonilleshusband, honkydonky, Boabdulrahman)
The Tournament has continued onward since our last update, eliminating half the users each round, and we're now in the voting stages of the semi-final round. Above are our current participants in PMC division – head here to vote for the two semi-final match-ups – and remember, it's multiple choice, so ensure you've voted for both before hitting that submit button!
(Clockwise from top left: bmxmitch, SlipZtrEm, DarkR, fkxpro)
2.0 allows for moderate image editing, and those above are who's left this round. It's the same situation as the other division, folks – head here to cast your votes on the two match-ups. These polls are only open until eight more hours, so don't delay!
(Click to view full-size of KlausPSU's winning shot)
The F1 season has started, and aptly enough, Klaus has selected, er, F1 as his theme this week. Hop into either Ferrari model, or PD's now-classic iteration of the breed, and snap some pictures at any of the real-life tracks the F1 circus typically visits. Go go go!
This Week's Poll: We had an H2H poll this week with Germany vs Italy, and conveniently enough, we're now down to the two shots that represent each side! This makes your voting that much easier – just vote for whichever you prefer in this final poll!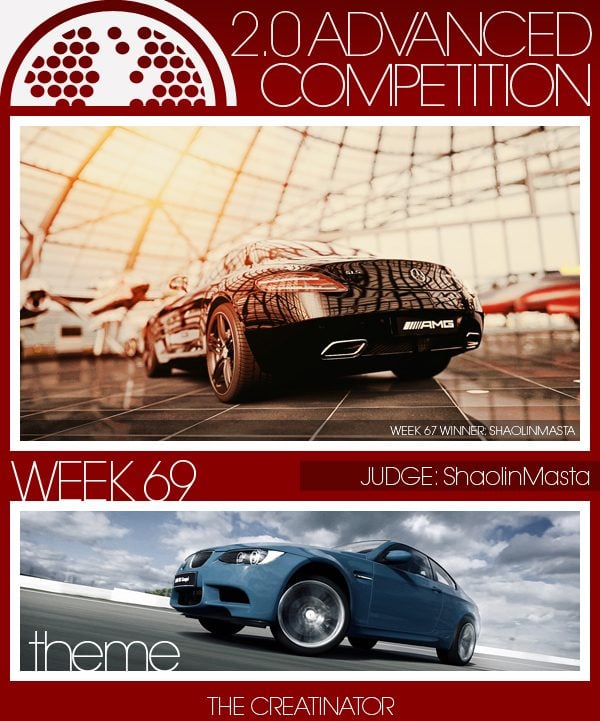 (Click to view full-size of ShaolinMasta's winning shot)
Taking a page from Sackboy and LittleBigPlanet this week, we're visiting The Creatinator. Well, we're visiting GT5's Track Creator, at any rate. The only limitation for your images this week is they must be shot on a track created with this handy feature – your car choice is entirely up to you. If that sounds like your sort of fun, hop over to the thread now to submit your image!
This Week's Poll: Unfortunately, the 2.0 poll just closed – but feel free to browse the Le… (wait for it)… Gends! poll to see which automotive icons got the special treatment!
(Click to view full-size of RED3MON's winning shot)
Red scores a double-win this week with this and the Photoshop competition. For Certain Car Certain Location, he's decided on First Super Car, focusing on the mis-understood (and often under-appreciated) Jaguar XJ220, and it needs to be storming London's downtown core. You heard the man!
This Week's Poll: Another closed poll (an early congrats to DarkR), but feel free to browse The Kafer's poll, and look at some epic Volkswagen Beetle shots!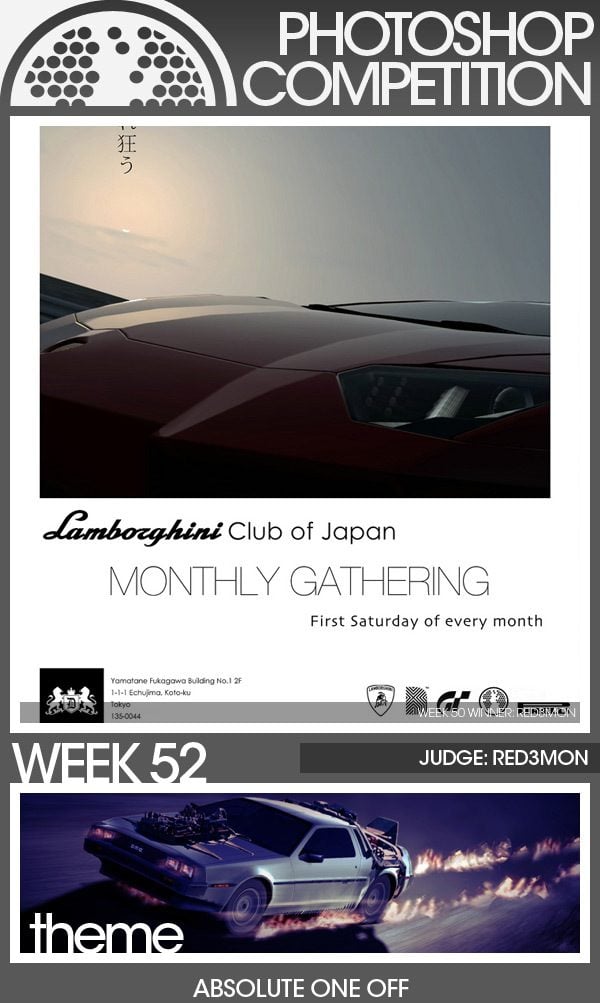 (Click to view full-size of RED3MON's winning shot)
Another win for Red, another theme! This week's Photoshop theme is Absolute One Off, getting inspiration from Lamborghini and their stunning Aventador J concept from the recent Geneva Autoshow. In a similar vein, Red wants to see you create an utterly bespoke, one-of-a-kind car out of GT5's lineup. Warm up your editing program of choice, and get ready for some craziness!
This Week's Poll: Did I mention the Geneva Motor Show? Why yes, yes I did, but our competition users beat me to the punch, creating some excellent posters for the event. Now your job is to vote on your favourite, which I recommend hurrying for, as there isn't much time left!
(Click to view full-size of CCShaft7's winning shot)
So, you've been driving around your favourite GT5 track, and you've totalled your car. CCS7's request? Since you've now become an Accidental Tourist, you might as well snap some of the natural beauty found in the environment! You're limited to the tracks of the game for this one, so no Photo Travel, but no cars can be in your image. When you've got it, don't forget to submit it anonymously to CCShaft7.
This Week's Poll: The lateness of this week's update means this poll is already closed as well, but Forza Italia brought with it some stupendous photography, so you'd be doing yourself a favour to go have a browse!
All sound a bit complicated? Read this thread for an explanation on how to get your images off your PS3 and onto a computer, and read over the individual rules in each competition's thread. If you're further stuck, feel free to Private Message me (click here). Start snapping those digital shutters!