A new year that marks the return of the Community Spotlight. Did you miss me? Of course you did, there's no need to even answer that—I can read your thoughts. Much has changed since we last convened and instead of going on about everything as I would normally, let's kick things off on the right foot.
Who's ready for the Spotlight?
GTPlanet Picture of the Week
This week's featured image is all about embracing the perilous danger of a sweeping bend taken by an Audi quattro. The image comes to us courtesy of G.T.Ace and showcases the acclaimed DiRT Rally.
If you like what you're seeing and have a suggestion for next week's featured image, start a conversation with me, entitle it "GTPlanet Picture of the Week" and fill it to your heart's content with suggestions and they'll be featured in upcoming Community Spotlight articles. NOTE: You cannot elect your own work.
GTPlanet Gallery of the Week
This week's featured gallery is a community effort all in the vein of showcasing works of photoshopped art.
You can find the thread and all of the fantastic attractions here put together by RevoXeli, should you want to have a look around and contribute to the gallery yourself. There are a lot of great pieces in the thread so I would advise not committing to a favorite until you've gone through the entire gallery.
If you like what you're seeing and have a suggestion for next week's featured gallery, start a conversation with me, entitle it "GTPlanet Gallery of the Week" and fill it to your heart's content with suggestions and they'll be featured in upcoming Community Spotlight articles. NOTE: You cannot elect your own gallery.
GTPlanet Thread of the Week – The Standard Dilemma
Standard cars have been a controversial topic for some time now and with no affirmed long-term solution in sight, the question becomes how this affects the series moving forward. Regardless of where you stand on the topic, there's little denying that it has resulted in a divide that parallels the issue of standard and premium vehicles found in Gran Turismo 5 and 6.
This week's featured thread, put together by syntex123, asks the question that's been discussed since late 2010: If you object to the inclusion of standard cars, whether it be in Gran Turismo Sport or Gran Turismo 7, why? What reason is there to object to more cars regardless of their overall quality?
If you don't object to their inclusion moving forward, what benefits are there to including them? Are you unaffected by the disparity in quality?
Stop by the thread here and share your opinions whether you're on one side of the fence or the other.
Better Than Ever?
In what turned out to be the final Community Spotlight of 2015, I briefly mentioned what I considered to be an interesting project that was in the works and teased it thusly:
"It's a topic one can't help but be drawn toward – like a moth to a flame – as it gives a brief overview, or, at least, the perception thereof, of how well any individual product has been welcomed into the home of the targeted consumer."
That project has finally come to, Racing Games are Better Than Ever… So Why Aren't They Selling? and it turned out really well if I do say so myself. The past year was decorated with racing games but it was met with an interesting problem, and this article addresses that and more.
If you haven't already, give it a read!
The MP4-30 Sounds Incredible in iRacing
This may be old news but it needs to be brought to the attention to those unaware.
McLaren's MP4-30 made its way into iRacing last year, and with the overhaul to the game's audio engine, this is perhaps the most faithful recreation of the turbo V6 power unit I've heard in any game to date.
American Truck Simulator – Coming February 3rd
If you haven't done so already now would be the time to mark that date on your calendar; whether you fancy a retail or digital copy, February 3rd is when you'll be able to get your hands on the newest chapter of SCS Software's trucking nirvana.
If you're intending to pick up the game during the week of release there's a chance you're already aware of this, but those of you that aren't there's a bit of a bonus in doing so. All that's required is going to the American Truck Simulator Steam store page and hitting "Follow" and you're done.
When the time comes to pull the trigger you'll be eligible for exclusive steampunk-themed paint jobs, so long as your game is activated within the week of its release.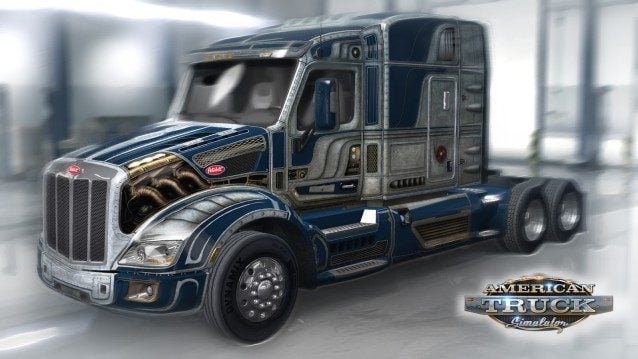 Nevada Will Be at Your Fingertips
If you're not moved by exclusive paint jobs or won't be able to purchase the game during the week of its release, fret not, because there's something for everyone.
ATS will launch with the state of California to fulfill all of your trucking needs but it doesn't end there. Launching alongside the game on February 3rd is the state of Nevada. The update will be available to everyone, no matter where or when you purchase the game, at no additional cost.
Wait, there's more! SCS are currently working on yet another map expansion that will be made available to everyone at no additional cost: Arizona.
"It is also public knowledge by now that we are hard at work on the state of Arizona. On the packaging of the retail box, there is actually an explicit statement that DLC Arizona will unlock for owners of this game edition when it's eventually finished. We are delighted to confirm that Arizona DLC will also be a free game update for everybody. You will just have to wait for it a little bit longer, this part of the world is still under development."
Trucks.
GTPlanet Vehicle of the Week
Back in October, you were introduced to Subaru's limited-run WRX STi S207 vying to be the world's most enjoyable vehicle irrespective of driving conditions, all the while enhancing driver skill.
Now you can see it in action.
GTPlanet Tune of the Week – Build Your Own!
Once every month we showcase the community's efforts to tame/tune the Car of the Month, and this month is no different, so let's get right down to business.
"…Let's try and recreate the RM, or simply build our own, GT6 style. With front aero, the ability to add or change rear wings/spoilers, upgrade rims and add flat floors, we can build our own.

So this will be the goal, and instead of starting a new thread every month, I will simply edit the title and continue to use this one. So long as the staff allows and interest keeps it going. Each month, January-February-March, will have a new list of cars from the three regions.

Japan will be January, but those cars can be tuned/posted and reviewed at any time. The cars from Europe (February) will also be allowed from then on. No time limit restrictions. For April and May, I have two more groups of cars, each group will not be revealed until then. But it will grow the idea much in the way cars get unlocked through gameplay and will continue to increase so to speak."
What you have here is a unique challenge for January. A unique challenge like all those that have preceded, however, the difference is that this is a new year, thus, there should be a new feeling. You're tasked with recreating the race-modified cars from Gran Turismo's past and/or building your own race-modified machine.
Can you stand the trial and create a track-ready racing monster? If you have what it takes and are up for the challenge, then have a look at this month's thread and have at it!
The Last Lap
There's been an awakening and we've all felt it—I'm referring to Star Wars: The Force Awakens, naturally. I won't spoil anything here as I'm sure there are still those of you out there that haven't seen the movie yet for one reason or another. Suffice to say, the Star Wars many of us grew up with is back.
The Member of the Week returns next week with some new questions, explaining its absence this week, and there's going to be plenty to look forward to in the coming weeks.
Until next week, keep racing!
Trucks.
More Posts On...
The original comments for this post are no longer available.