It's the final day of the first GT Sport World Tour of the year in Sydney, and that can only mean one thing: the Nations Cup final.
There's plenty hanging on this first final of the year, with a qualification spot for the World Final in Monaco again available to the driver who takes their chance. Last year that was Nico Rubilar, who also saw success in the Manufacturer Series yesterday.
In fact Rubilar is one of only two people in Sydney with experience of winning a Nations Cup event at a World Tour. The other is Hungary's Patrik Blazsan, who won in Salzburg in 2018. Crucially, neither of the two world champions — Igor Fraga in 2018 and Mikail Hizal in 2019 — are present, and that means we may see a brand new player on the top step.
Many eyes will fall on home favorite Cody Latkovski. The Australian finished runner-up last year, but also won two Manufacturer Series titles and became the FIA's Digital Cup champion in 2019. Another favorite is sure to be Takuma Miyazono, whose unflappable driving style won him many fans on his way to third place last year.
Qualifying though has put another driver at the top: Hong Kong's Jonathan Wong. He lead Miyazono and Latkovski home in the X2019 at Dragon Trail Seaside by just 0.02s, with Rick Kevelham of the Netherlands in fourth and the UK's Adam Suswillo fifth. Daniel Solis is the top-ranked Americas driver, in sixth.
The 24 drivers will first have to make it through two semi-finals, with the top six in each qualifying — there'll be no repechage this time round. As yet, we don't know what the race format for the second semi-final will be, which suggests something new for GT Sport players is in the works. That will then lead into the final showdown, back in the X2019s at Dragon Trail Seaside.
An interesting twist to this year's proceedings will see the top three drivers score World Tour points — three for first down to one for third — which they will carry through to the World Final in Monaco to get a head start.
The action gets underway at 0500 UTC (convert to your time here), and you can watch it all below:
Driver Guide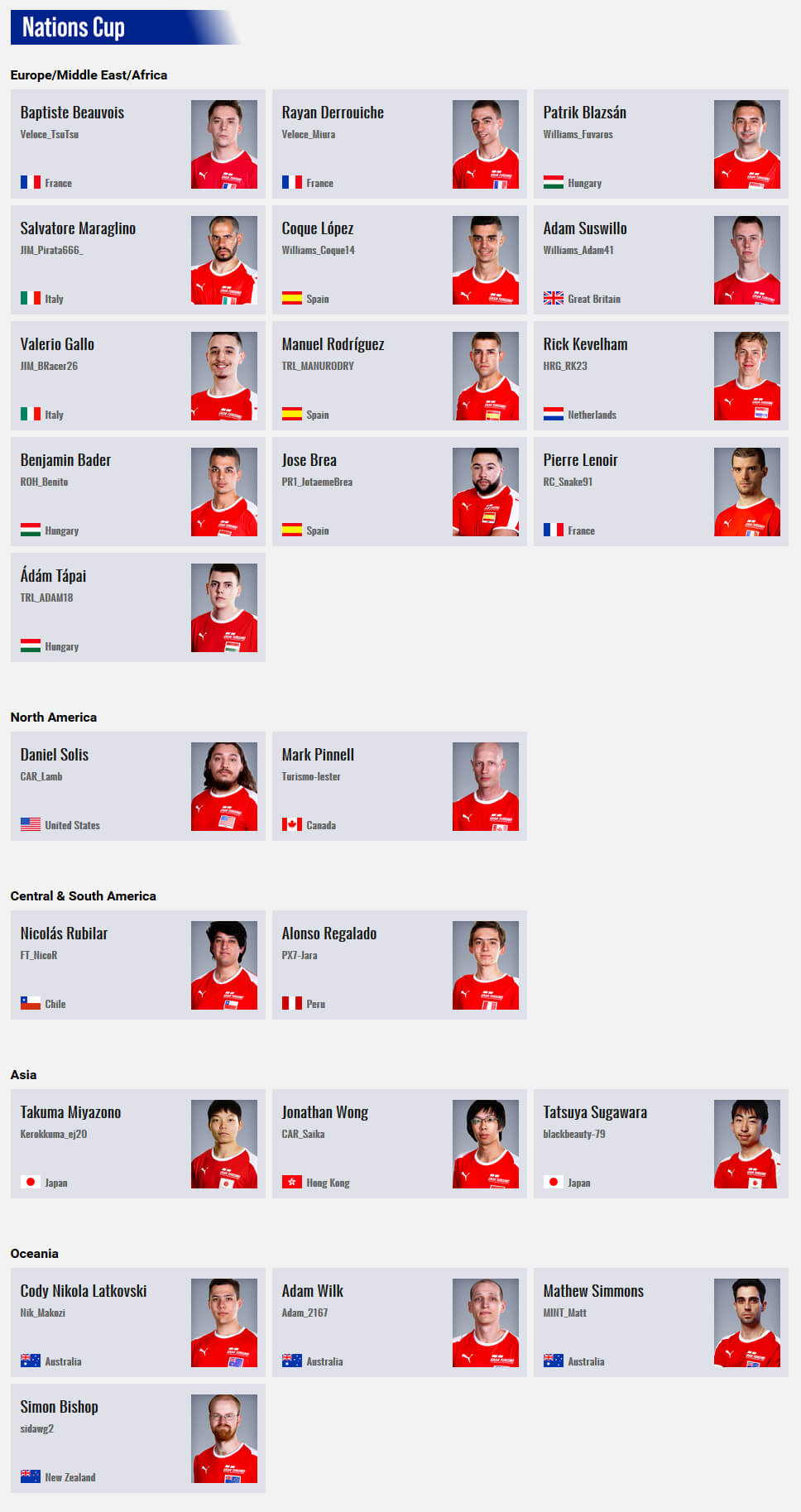 See more articles on GT Sport Nations Cup, Live Stream, and World Tour.