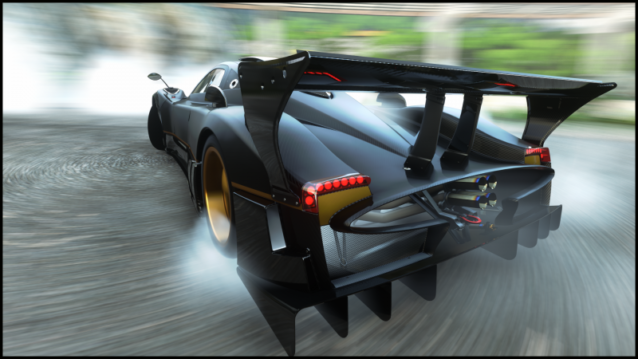 With Sony's PlayStation conference last week finally making the PlayStation 4 Pro official, the benefits the system can bring to pre-existing PS4 games has brought hefty discussion in the racing genre community.
One game that has crept up as a potential suitor to these performance upgrades is Evolution Studios' DriveClub. Having had continued post-release support until Evolution were shut down by Sony, many believed the confirmed existence of DriveClub VR gave hope for PS4 Pro functionality for the original game. Unfortunately, this won't be the case: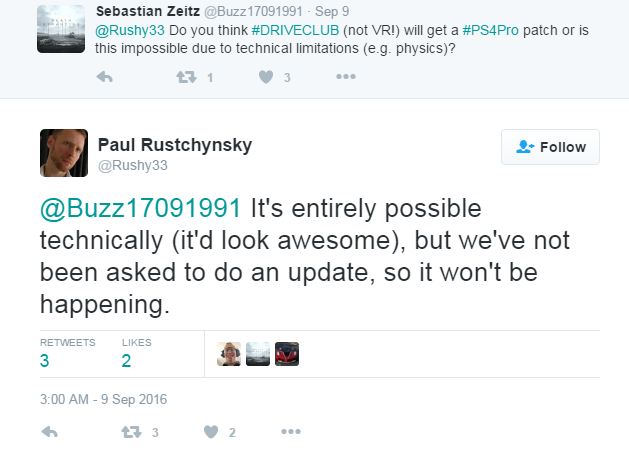 Confirmed by ex-DriveClub director Paul 'Rushy' Rustchynsky on Twitter, Sony haven't approached him or the team regarding the new capabilities of the upgraded console — whilst hinting that from a technical perspective the PS4 Pro could definitely give room for improvements. With this said, the answer seems so definitive that the dream of a 60fps/4k DriveClub will remain outwith reality.
The PlayStation 4 Pro could have definitely enhanced the title, with many developers already showcasing what the extra oomph can do for them. Perhaps the best example is Square-Enix's 'Rise of The Tomb Raider', which will adopt a PC-like model of having multiple run options. As per Dualshockers, players with the Pro will be able to choose between three different options: '4K Resolution', 'High Frame-rate' and 'Enhanced visuals', choosing exactly which experience they want. Racing games would definitely benefit from a similar model.
With DriveClub ruled out of the running, focus will now shift to the developers of other racing games in regard to what PS4 Pro could potentially offer. Codemasters and Slightly Mad Studios have yet to comment in regard to DiRT Rally and Project CARS respectively, for example. Hopefully those titles (or any sequels) will make full use of the expanded power of the PS4 Pro.
The original comments for this post are no longer available.