Today marks the first anniversary of Gran Turismo 7, with the game launched exactly 12 months ago on March 4 2022.
It's been quite the rollercoaster of a year for the game, with some highs and lows over what's been a challenging but pretty successful period for the series.
Thinking back a year ago, there was quite an optimistic feel leading up to launch. There were certainly reasons to be cheerful, with almost all of the content coming back from Gran Turismo Sport and bringing a lot more besides — with dozens of new cars and some new but familiar tracks.
That included fan-favorite circuits like Deep Forest, High Speed Ring, and Trial Mountain, all skipped from Sport but returning in reworked form. With extensive car tuning returning and bringing more options than ever before along with Sport's livery editor and eponymous online mode, and a new single-player campaign, it all looked like a crowning glory of the series.
However there were some issues and more than a couple of mis-steps on the way. The first of those came on day one when the game's microtransactions — which had been unavailable in review copies — were revealed in their ludicrously expensive entirety. The online mode, which was subsequently revealed to have been rebuilt entirely, also proved unreliable early on — and still has issues with cross-platform play.
Next came the realization that the single-player campaign was actually pretty brief. It wasn't so short that the reviewers were reaching the end in their press copies, but hardcore players were hitting the finale within a couple of days of launch.
Tacked onto that was the relatively low payouts for the events, which saw players calculate early on that repeatedly running a one-lap rally event was the most efficient way of earning credits to buy those 430 cars in the collector book menu.
Not that it was particularly easy to do so either, with several incredibly expensive cars in the game — some requiring 20,000,000 credits — sitting in the rotating stock list of the Hagerty Collection with variable pricing.
And then things got a lot worse: an update came out that was intended to slash the already low rate at which players could earn credits. That would have been unpopular enough if the update hadn't also broken the game entirely and forced it offline for a day and a half.
That prompted massive review-bombing of the title at user-review aggregator sites — from which it still hasn't recovered — and an extraordinary statement from game producer Kazunori Yamauchi himself addressing the situation.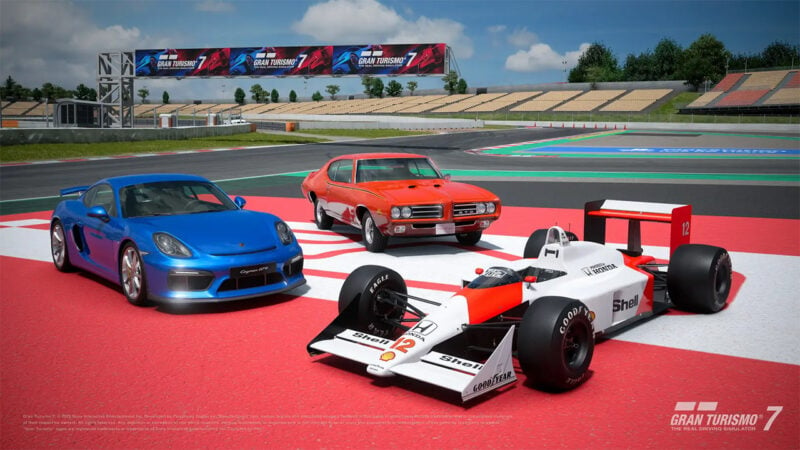 It wasn't so long after the incident that GT7 started to receive its first content updates, and we've certainly seen a general uptick in the title since then.
New, higher-earning races were introduced — although are still few and far between, with no additional ones since April 2022 — along with some new Missions and expansions to the GT Cafe menu books in single player.
We've seen three or so cars arriving almost every month, along with both brand new circuits like Road Atlanta and Watkins Glen, and the returning original Grand Valley circuit — in a reworked form. Not to mention the new layouts at Barcelona, which added a rallycross circuit.
In addition we've seen the return, after two seasons away, of the Gran Turismo World Tour live events to host the flagship World Series. Following a test event in Austria, the World Final returned to Monaco for the first time since 2019. The series also marked its 25th anniversary, with special in-game events.
There's been even bigger changes recently, with the introduction of one revolutionary feature and a teaser for another. We're of course talking about PlayStation VR2, which Gran Turismo 7 supports across all game modes (other than local split-screen) for the first time, and Gran Turismo Sophy.
Sophy is a new AI system, created by Sony AI and first revealed ahead of GT7's launch in 2022. Although not yet at the stage of replacing the game's own AI across the board, a special in-game challenge is available right now in PS5 versions where you can experience it in limited fashion.
It's fair to say it's been a pretty wild year, initially verging on disappointment and some controversy, but which PD has turned around into a lot more optimism for the months — and maybe years — ahead…