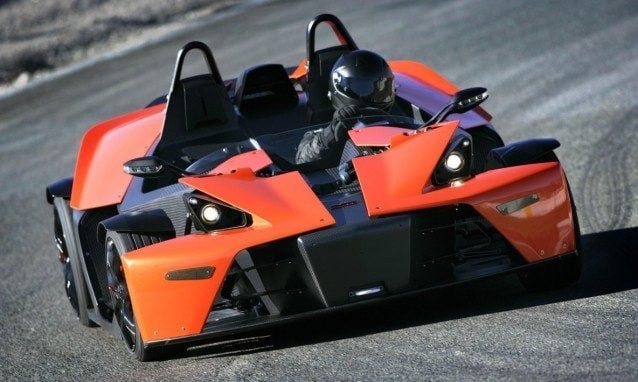 Sony's official press release for the big "15 Years of Gran Turismo" event planned at Silverstone Circuit on May 15, 2013, offered a few hints at what's to come. One interesting paragraph discussed car manufacturers who will be participating:
This mutual respect and increasing blurring of the lines between the virtual and real, has led to the Silverstone event being well supported by a host of other manufacturers as well, such as Audi, BMW, Ford, Honda, Jaguar, KTM, Mercedes Benz, Tesla and Toyota. Real-life versions of their cars, old and new, familiar to the legions of passionate Gran Turismo fans will be on display and on-track as part of the event.
One of those manufacturers should stand out to observant Gran Turismo fans: KTM is an Austrian motorcycle company. They only produce one car, the "X-Bow", a popular, lightweight, open-air sports car powered by a turbocharged, four-cylinder Audi engine.
Needless to say, the car has never been featured in a Gran Turismo game (KTM bikes were not in Polyphony Digital's Tourist Trophy, either), which makes their participation in such a major event for the brand very intriguing. With Gran Turismo 6 being suggested for a reveal next week, could the X-Bow be one of the title's new cars?
We'll find out soon enough – GTPlanet will be attending the Gran Turismo event at Silverstone on May 15th, providing full, live coverage of all the day's activities and announcements as they unfold. Mark your calendars, and stay tuned!
More Posts On...
The original comments for this post are no longer available.