Slightly Mad Studios' Creative Director Andy Tudor has insisted that GT Sport and Forza Motorsport 7 are playing catch up to the Project CARS series. The soundbite comes from an interview conducted at E3 last month.
'Tell Me That We're Not the Most Technically Advanced Racing Game.'
GamesReactor got the chance to talk with Tudor about the upcoming Project CARS 2. Most of the interview focuses on how development is coming along and that type of thing. However, when asked if Project CARS 2 was feeling the pressure of the other big racers releasing this year, Tudor had an interesting response:
"No, not really, which sounds kind of bold and a bit arrogant. We've always been nipping at the heels of like the big brands that are out there. But this time around it's a bit of a different situation, they're actually playing catch up with us in many respects."
Tudor then goes on to list reasons why he believes Project CARS 2 is ahead of the industry veterans. Forza Motorsport 7's dynamic weather system is a series first but the original Project CARS had this feature in 2015.
Of course, Gran Turismo 5 had dynamic time and weather back in 2010. That was on PS3, the platform SMS originally targeted for the first PCARS. Going even further back, Test Drive Le Mans showcased changing conditions an entire decade earlier. Then again, in a surprising move Polyphony Digital removed dynamic conditions for GT Sport to focus on more stable performance.
Tudor then reminds the interviewer that whilst the push for 4K is big for both Gran Turismo and Forza this year, Project CARS allowed players to play on 12K — if you had a suitable PC. Oculus VR support also appeared in the original title, beating out GT Sport's VR Tour mode by two years.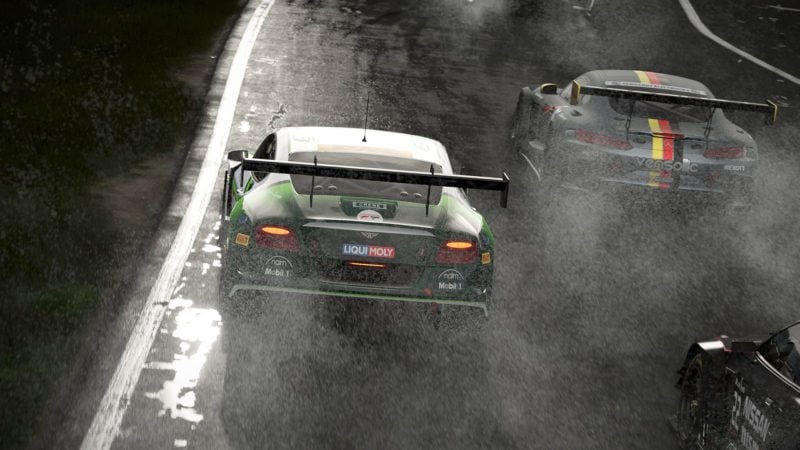 A Fair Statement or Weighted Comparison?
There's no doubt that the original Project CARS had lofty ambitions and some impressive tech. That being said, Tudor references a lot of what was possible if the player had a super-powered PC, not a console. Forza and GT's continued focus on 4K, for example, comes from the ability to make use of the PS4 Pro and Xbox One X consoles. The power in the standard consoles simply wasn't up to the task.
Project CARS 2 will also make keen use of this new power to deliver a 4K experience. The same sentiment goes for virtual reality integration. On PS4, GT Sport will make use of last year's PlayStation VR to offer a dedicated mode. Whilst Project CARS offered support for VR on PC, that was the only platform it was available on.
Slightly Mad Studios is being coy on PSVR support for PCARS2 but as it stands there are no promises for support. Should VR inclusion not arrive on consoles, this would give GT the upper hand on PS4.
All aspects considered though, Project CARS 2 is looking like a seriously impressive package. A genre-leading track list, strong car roster and the intriguing LiveTrack 3.0 are all key to the title. It's easy to see why SMS is so confident with its product from those features alone.
We'll see just how true Tudor's statement is when the title releases on September 22.
See more articles on E3 2017.