As we get the champagne on ice in preparation for New Year's Eve, we're taking a look back at the frankly historic last 12 months. 2017 was a great year to be a sim racer, and we've got a ton of supporting evidence.
We started the year by suggesting this would happen. In terms of odds, it wasn't the riskiest thing to say; there were a lot of titles on the horizon, and the landmark change in Porsche's approach to gaming meant no matter which game you played, you'd likely spot the familiar crest.
This was a year of diversity. Sim racers are all quite similar by nature, but looking closer, it was fascinating to see how they varied. The big three console launches this fall took markedly different approaches to the formula.
We had a love letter to motorsports, which prioritized the living, breathing nature of a race track. We saw the automotive sandbox approach (or, as we like to call it, the Jay Leno simulator) embrace car collecting. And we witnessed a familiar franchise reinvent itself as the next step in racing — not just replicating the real world, but forging its own take on (digital) motorsports.
Oh, and all of these launched mere weeks apart.
Meanwhile, the single-discipline titles — the F1s and WRCs of the genre — had their best outings yet, capitalizing on their strengths. Like we said, you were spoiled for choice.
Without further ado, let's explore each month of 2017.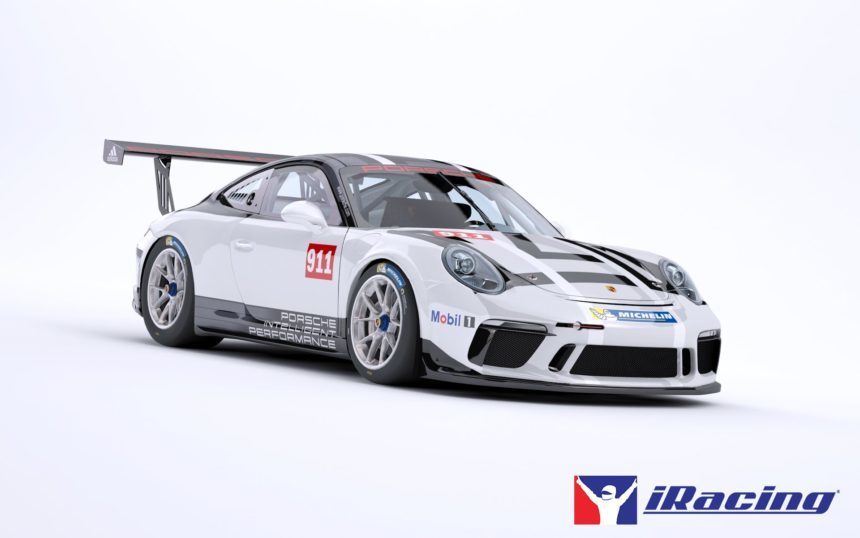 January
The start of the year is very, very rarely a place for launches. Instead, the first full month of winter is all about looking ahead. The big franchises did just that, teasing upcoming additions to their latest titles.
iRacing took an early lead with its surprise New Year's Day announcement of Porsche. A year later, we've got the 911 GT3 Cup in the evergreen PC racer — but where are the others? There were plenty of Porsches in Assetto Corsa already in the beginning of the year, so Kunos' Marco Massarutto teased a variety of cars and tracks instead. These rides, as well as Laguna Seca and the Scottish Highlands, slowly arrived over the next twelve months.
The Forza franchise has long had a regular DLC schedule. At the beginning of the year, that meant a new DLC pack for Forza Horizon 3, led by the first major title appearance of the BMW i8. We also heard that the game had just cracked the UK's 2016 top 10 game sales chart. It was the only racing game to do it.
But alongside the steady support was a major blunder. Over on PC — where FH3 was the first full title to arrive — Playground Games accidentally released a developer version of the game. We're guessing someone found coal in their stocking at Playground this year…
January was sim racing's big moment in the esport spotlight, with the million-dollar Visa Vegas eRace taking place. In the end, the rFactor 2-powered competition suffered some teething issues on the esport stage, but winner Bono Huis still walked away with $225,000. Not bad at all.
Lastly, to get the ball rolling on the onslaught of new title releases that would make up 2017, Codemasters announced DiRT 4.
February
News of Gran Turismo had been pretty light on the ground the first month of the year. We start February with confirmation that the Gran Turismo franchise has exclusive rights to the Pikes Peak Hill Climb. The surprise? We get it from Codemasters' Paul Coleman. No sign of it in GT Sport, at least not yet…
Shortly after, the Vision Gran Turismo program gets a jump-start with the first teases of the Fittipaldi EF7 by Pininfarina. The unique styling hides a pretty traditional berlinetta layout: mid-engined, lightweight, and powered by a high-revving nat-asp V8. Yes please.
A familiar name showed up in 2016 when SimBin Studios did its best phoenix impression. In February, it announces GTR 3. The team pencils it in for a 2018 launch, with the first playable earmarked for as soon as six months after the announcement. Sadly, this is the only news we hear about the game all year.
After a handful of leaks, the first official Project CARS 2 trailer arrives. Slightly Mad Studios sticks to the "late 2017" line for now, after studio head Ian Bell first floated a "September-ish" window. We learn later that this is the most rare of things in the sim racing world: an accurate launch period!
We do our part to help sim racers in their romantic relationships on Valentines Day by showing what happens when you pay more attention to VR than your girlfriend.
March
Continuing the Year of the Racing Game, Milestone (of Sébastien Loeb Rally EVO fame) announces the hard-to-Google Gravel. It joins a growing number of titles by including Porsches, too.
The Geneva Motor Show takes place this month, and it features a huge amount of video game tie-ins. Up first is the full reveal of the Fittipaldi EF7. Emerson's dream sports car made real, it's scheduled to be built in limited numbers in 2018. Not stopping there, Polyphony Digital uses the show to announce Tag Heuer as its official GT Sport time keeper.
Of course, that all pales in comparison to the big news: a GT Sport closed beta. It's a year later than PD originally planned — to say nothing of the reason it gave for doing so — but it still gives fans an unprecedented look at the development of a GT title. Access begins March 17 for US players.
Heading back to mid-engined cars from Geneva, McLaren shows off the 720S, and it gets cover car status for Project CARS 2. Meanwhile, on the other end of the spectrum, the Tamo Racemo arrives in Forza Horizon 3. A sports car sub-brand from India's Tata, the real-world project is sadly canned before the year ends.
April
The month starts with a GT Sport concern involving no less than the President of the United States. We're serious. Honest.
Entering its second month, the GT Sport closed beta means media for the game is starting to pick up. In a blink-and-you'll-miss-it moment, a new track appears in a PlayStation ad. We had a lot of guesses, from El Capitan to the Alps. In the end, Polyphony Digital confirms it as Dragon Trail, a track that's earned instant-classic status for some of us. Interlagos is spotted too, though it's then hidden again for a few months.
Access to the beta expands to Europe mid-month. That news gets buried, if ever so slightly, by the announcement that Porsche is coming to GT Sport. It was expected ever since we first broke the news the EA exclusivity deal was dead, but it still feels good to see Gran Turismo join all the other franchises in welcoming the Stuttgart brand.
Speaking of Porsche, Turn 10 announces a six year deal between it and Forza. It starts with a seven-car pack in Horizon 3, a new season of ForzaRC, and extends into a future title. How mysterious…
Elsewhere in Xbox land, Microsoft pulls the sheets back on Project Scorpio. It's a monster of a console, establishing itself as the most powerful ever. It runs a suspicious-looking Forza tech demo at a solid 4K/60fps, which as we learn a few months later is a big selling point for Forza 7.
In hardware news, Sparco's sim racing gear looks great, but you'll want to bring stacks of cash.
May
iRacing leads another month in terms of news, starting May with the announcement that Time Attack is coming. Before the month is out, it also shows off the upcoming Ford GT LM.
Meanwhile, McLaren announces World's Fastest Gamer. Covering multiple disciplines, from PC sims to mobile gaming, it aims to find the fastest across them all, with a job as an official McLaren simulator tester on offer.
Slightly Mad Studios continues to increase the speed on the Project CARS 2 hype train. We hear about the pricey "Ultra Edition", which comes with no less than an exquisitely-detailed 1:12 McLaren 720S model. We also see the GT3 class continue to swell with the addition of the BMW M6 GT3, some epic classic Indy racers, and Porsche (of course). Mr. Bell also lets loose that a certain "Hollywood Franchise" is courting SMS.
Forza Horizon 3 gets up to its silliest antics yet with a Hot Wheels expansion. A new island arrives, complete with miles of signature orange track, alongside a handful of new cars from the diecast history books.
With a certain big show coming the following month, the announcements come thick and fast. In the span of only 48 hours, we hear about NASCAR Heat 2, The Crew 2, WRC 7, and F1 2017. Shortly afterwards, we find our wallets collectively crying in the corner.
In Gran Turismo news, the GT Sport Closed Beta expands into Asia. Before that, a community member spots tire deformation in the ongoing GT Sport Closed Beta. We look back at the 12 months since the game's big reveal in London in May 2016, detailing everything we've learned since. We also hear GT Academy is coming back this year via GT Sport. Uh…
We sadly bid adieu to the PlayStation 3, as production ends in Japan.
June
Before we get into the E3 madness, Fanatec announces its new PS4-compatible wheel. We review it a month later and find it one of the best multi-platform sim racing solutions out there.
Codemasters kicks off the year's big sim racing releases with DiRT 4. We review that too — with our new standardized rating system — and find it fun, if not as deep as its Rally predecessor.
The Electronic Entertainment Expo is an all-you-can-race buffet in 2017. After a year off, the longest-running racing franchise returns with Need for Speed Payback. The Slightly Mad boys are the first of what we call "the Big Three" to stake out a specific date, picking September 22 for Project CARS 2. At the pre-E3 Xbox event, Forza Motorsport 7 is shown off for the first time, running on the Xbox One X (formerly Scorpio). Porsche simultaneously announces the 700hp 911 GT2 RS on stage beside Dan Greenawalt — it's one of the 700+ cars the game will feature when it launches a week after PCARS2.
Gran Turismo Sport releases… Fall 2017. An exact date isn't given, but we do get plenty of new details (and not one, but two Kaz interviews). Shortly after E3, the Official PlayStation Magazine accidentally outs November 16 as the release date. As we're from the future and all, we know this ends up being incorrect.
We also get the official name for Thrustmaster's tie-in wheel: the T-GT. It boasts a GT-specific feature that's hard to explain, but we do our best with our hands-on account.
The weekend after E3, Forza 6 players stand on podium at Le Mans. It's another step forward for racing esports, as they share it with the real-world winners.
As a blast from the past, our man Adam revists the ultimate version of Gran Turismo 2. The catch? It wasn't available on PS1, or PS2 for that matter. It was available on Sega's final home console.
July
As the first of the Big Three to be launching in the fall, Slightly Mad Studios is rather bullish about Project CARS 2. Andy Tudor ruffles some feathers when he states the competition is playing catch-up, though as a wise Jedi once said, it's true — from a certain point of view.
One area PCARS2 certainly beats the competition in is the track roster. SMS releases it, and it's a wonderful beast of a list. Here we are at the end of the year, and we still haven't tried all the permutations available.
Assetto Corsa is still going strong, and an all-Ferrari DLC car pack is in the works. Kunos opens up the final slot for public voting, and while the options include plenty of tasty metal both old and new, the result is this year's F1 car, despite the 2015 model already being a part of the pack.
Our dark horse of E3 2017 — WRC 7 — gets a new trailer showing off its Epic Stages. Staying off-road, we see our first 2017 casualty as Milestone pushes Gravel back to 2018. Our wallets quietly thank the Italian team.
With the rush of E3 behind us, and the promise of a very different GT experience with Sport, we rank the six mainline titles. Spoiler alert: GT3 is best, and if you disagree, you're probably wrong. We've also got bad news about why you'll never see a remaster of the classics.
After over three months of service, the GT Sport Closed Beta comes to an end. The hurt is short-lived however, as Polyphony announces the release date only hours later. Not kidding around, the team plants its flag in mid-October. That means all three big franchises launch within weeks of each other, to say nothing of all the other quality games launching on either side.
August
We kick off the final full month of summer with a sense of deja vu. Kazunori Yamauchi states GT Sport's car models are over-specced for PS4 Pro. We heard a similar comment about the PS3 and GT6's Premiums years ago, though they've seemingly not made the jump to this generation. Yet.
With a release date locked in, Polyphony begins showing off more of the tracks coming to Sport. First we see Alsace Village, followed by a (welcome) new variation of Tokyo Expressway.
If you've been holding out hope for a "traditional" GT game, well, it'll be a long wait. Kazunori states Polyphony has no plans for a GT7. It also doesn't have any for microtransactions — welcome news in a year that would see them (and loot boxes) come to the fore in video game discussions across the globe.
Something that does garner plenty of discussion is a simple percentage: 15%, to be exact. It's the figure Yamauchi-san says consists of the online experience in GT Sport.
The Nintendo Switch isn't something we feature often in our newsfeed. That changes in August when it's announced that Gear.Club Unlimited is coming to the newest console on the market.
Forza players are hit with bad news, as they're forced to wave goodbye to production model Toyotas in FM7. It's the first in a string of removals; the brand is absent from NFS Payback as well (alongside Ferrari), while Lotus suddenly vanishes from GT Sport prior to launch. The racing gods giveth (in the form of widespread Porsche availability), and the racing gods taketh away.
We feature the story of a Gran Turismo fan's quest to own one of the racing pods you see at events. Julian's last name is truly appropriate here, and we recommend sitting down with the whole story.
The racing game release onslaught begins with F1 2017's launch. It's really quite excellent, as we find out in our review.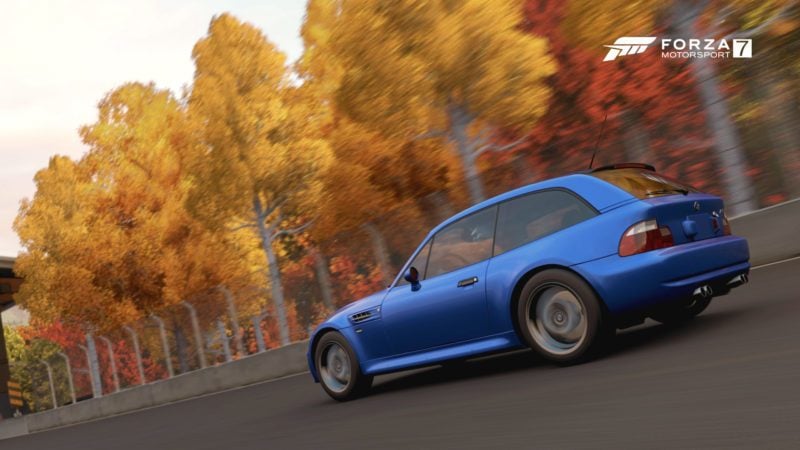 September
September saw no less than four game releases — five if you count the rest of F1 2017's global roll-out.
Up first is WRC 7. Our man Brendan really enjoys it in his review, and it becomes something of talking point amongst the team. In a year of impressive games, WRC 7 simply surpassed all expectations based on its predecessor. All other titles may have stumbled in one way or another, but Kylotonn seemingly found its stride here. We can't wait to see where 8 goes.
Only a few days earlier, NASCAR Heat 2 launches. That's, uh, about all we have to say on it, unfortunately.
Slightly Mad Studios is first out the multi-disciplinary gate with Project CARS 2. A hugely ambitious game, it nails the feel of a motorsports weekend in a way neither of its main competitors manage (according to our review), helped by things like the inclusion of the Pirelli World Challenge. It also suffers from a litany of bugs at launch, something that is slowly but surely ironed out over the remainder of the year.
On launch day, the DLC plan leaks. Bring on those Porsche and Ferrari packs!
Forza Motorsport 7's early access kicks off on September 29. While the beginning of the month hints at a rally connection — and the DLC car packs continue to do the same the rest of the year — there's no off-roading in the game. It's a big game too, as the 95GB install is half downloadable. Speaking of big, we hear the franchise is played by five million people each month!
The launch is tarnished by news of microtransaction plans. To its credit, Turn 10 has yet to introduce any level of MTs in FM7, no doubt at least partially due to the Star Wars Battlefront II snafu.
In the background of all of this launch business, the 900lb gorilla is waking up. Gran Turismo Sport stays on the periphery of the news cycle this month, but it's never far away.
Few things capture the news like a four-digit horsepower figure, and the latest addition to the Vision GT program boasts just that. McLaren unveils the "Ultimate", although it's safe to say, with the benefit of hindsight, that it doesn't hint at the upcoming reveal of the Senna. We're still not sure if that's a good or bad thing, mind.
Word also gets out that the game will require an internet connection for most activities, which leads to plenty of debate on our forums. We also hear about a second beta stage for GT Sport. Then we find out it's not actually happening… right?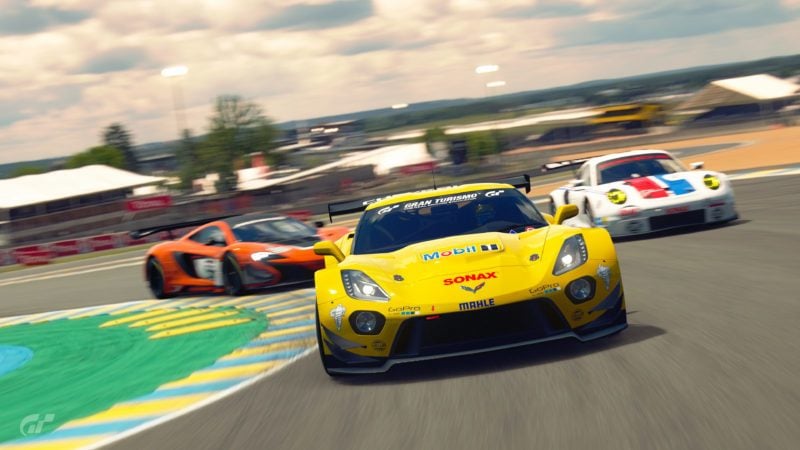 October
Just kidding. Sony kicks off the month with the announcement of a limited-time demo. As you'd expect this close to the actual release, it's essentially the full game, just with certain parts cordoned off. The livery editor immediately becomes a hot spot of activity, and we expand our forums to take advantage of that.
Before we get to the launch of GT Sport, there's the wide release of Forza Motorsport 7. We review the game and find it an enjoyable, if safe, addition to the franchise. The consumable VIP fiasco — where extra perks aren't permanent, without that being made clear — prompts a response from no less than Turn 10's studio head, Alan Hartman. Turn 10 converts the system to its original design in the next game update.
The lead-up to GT Sport's release is filled with last-minute reveals. First up is Interlagos (even if we broke that news months ago). After that are the remaining two Porsches in the game's quartet. Even though that afore-mentioned beta gives us a good idea of the game's class structure, Polyphony releases a video explaining them (with our own Tom narrating!).
And then, it happens. After almost four years, the wait is over: a Gran Turismo game touches down on the PS4. It even gets a special edition of the system, which we unbox. We say goodbye to GT6, and welcome the newcomer in our exhaustive GT Sport review. It's both massively different from what's come before, and oddly familiar. Credits are still a thing, and we figure out the best way to earn 'em quickly. We also power through the driving tests to get you the first look at rain in-game.
As ever with games these days, release day is just the beginning. Shortly after the global roll-out, we see the new Iso Rivolta Vision GT. Polyphony says it's coming soon — and as we now know, that's very true.
During the game's launch event, Kazunori Yamauchi receives an honorary doctorate. Rumors of a Dr. Kaz puzzle-based spin-off start immediately.
This was a month of travel for the GTPlanet team, too. Site founder Jordan heads to the Sport launch event, documenting the GT takeover of Modena. Meanwhile, automotive editor Andrew heads to Silverstone to prove that yes, you can drive a real car with a controller. Of course, it had to be a GT-R! A day later, yours truly arrives at Silverstone as well, to sample some Porsches, and Forzas old and new. More on that next month…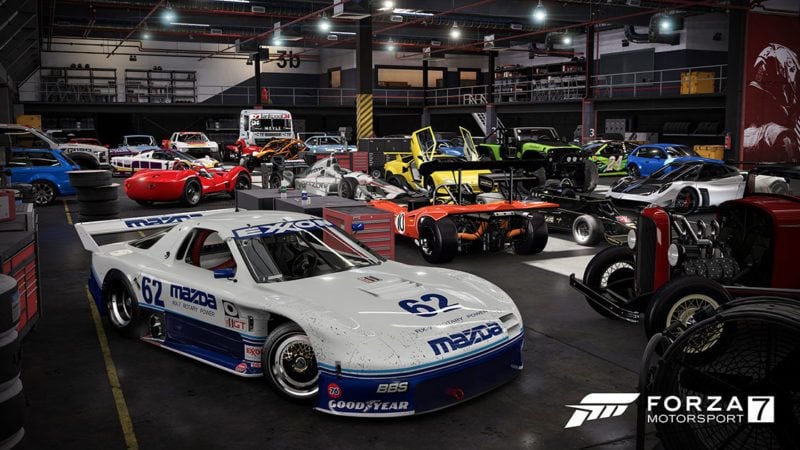 November
We start the month with the unboxing of the Xbox One X. Microsoft touts it as the world's most powerful system, and it lives up to the name. It provides plenty of visual perks for the Xbox's library of racing games, not least FM7. The game gets a substantial update in preparation for the system's launch, bringing new features on-line as well as a new car pack.
What'd we get up to at Silverstone? We drifted some Porsches, of course!
October was a month of change for GT Sport. The Sport Mode schedule was all over the place, so Polyphony puts it on a regular cadence with daily race updates. We know the FIA Championship will start in April 2018, but the test seasons — weekly series — begin November 4.
Through experimentation and some clever exploits, our community finds out how long it'll take you to get that GT Sport platinum trophy. Spoiler: it'll be a while. If you're in Australia, maybe you'd rather try to win the real thing?
After just about a month, the handy decal uploader comes online at the official GT.com site. The community explodes with plenty of excellent liveries… and just as many angry posts about SVG files not turning out as expected.
We aren't quite through the release storm, as Need for Speed Payback touches down. It leads the UK sales charts when it releases, but throughout the month it is kept company by both FM7 and GT Sport. The public is hungry for racing games, it seems.
Sales are sort of a big deal on Black Friday. We cover all the deals we can find, and there's some amazing ones available for racing fans this year.
Finally, we wrap up the month with news of a demo for an upcoming game. The Project CARS 2 demo arrives on all major platforms. Wait. I'm being told the full game actually released two months ago, and that the SMS team said there would be no demo. What timeline is this?!
Oh yeah — PD, please make Tourist Trophy 2!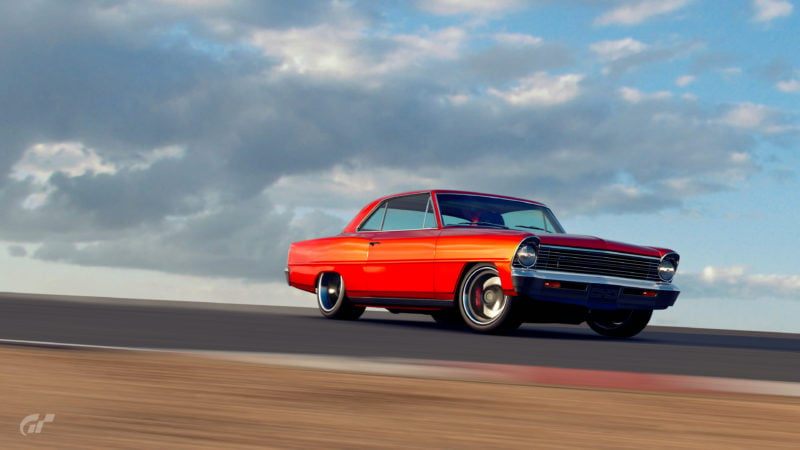 December
This was technically part of last month, but we're putting it here (and that'll make sense soon). The 1.06 update for GT Sport arrives, bringing a trio of cars, new Scapes, and other goodies.
It's rolled into here because of the big 1.10 update that also came this month. It introduces a new track (we're calling it Mega-Kyoto), twelve cars, and a much-anticipated GT League single-player mode. Shortly after the update lands, the game is hit with serious connectivity issues. According to Kaz, this is due to PSN getting a "false positive" for DDOS'ing.
Gran Turismo shows up at the yearly PlayStation Experience, not with new content, but a trio of fashion designer collaborations. A limited number of merchandise shows up, and quickly sells out.
Of course, Gran Turismo wasn't the only game to welcome new content in the final month of the year. Over in Forza 7, the December car pack brought the oldest car to the franchise: the peerless Bugatti Type 35. It came with six other cars, plus a hidden Porsche 911 RSR. Forza also wins the coveted Sports/Racing Game of the Year at The 2017 Game Awards.
Project CARS 2 brings the fun in the pack of the same name. We drive a trio of the vehicles and come back with a harsh verdict: just kidding, they all live up to the title.
Assetto Corsa gets in on the new car action with a free pack, titled Bonus Pack 3. We drive 'em all (parts one, two, and three). Sticking to PC, iRacing goes rallycrossing with its last update of the year. It also introduces animated pit crews to the venerable racer. RaceRoom has something too: three new Porsches!
This being the end of the year, we stop for reflection. Polyphony announces that the GT6 online servers will be laid to rest in March 2018. In brighter news, and the tone we want to end on, we celebrate the Gran Turismo franchise's 20th anniversary.
It's been a great year. Come on, 2018; we're ready for you.
See more articles on Year in Review.