We're less than 100 hours away from Christmas, and while Santa Kaz has already dropped off a few presents (and yet more if you've got a few dollars for him), there's even more fun to be had in our Photomode section this week. For our digital photogs, this update was welcome as it returned a few features that were mysteriously removed from Photomode during 2.01. Lens flare and bloom have returned, so before you're stuffed to the gills with shortbreads and other festive treats, take a look at our competitions this week!
Looking to enter? Click the links for each week's theme and read the first post in the thread; make sure to follow the rules on submitting an image, and do so in that thread before the weekly deadline! Each competition has unique rules, so keep them in mind when submitting! Now, on to each competition's weekly info!

Last Week's Theme: Track Art
Last Week's Winner: reverand33
This Week's Theme:
 Considering the Car Pack 2 DLC,
Honda vs Volkswagen
is a timely theme choice by the reverand! It's a Head2Head theme, so hop into your favourite front-engined VTEC-mobile or Das Auto and help decide the winner!
This Week's Polls: …or, if you'd prefer to help choose a winner without all that pesky photo shooting, Classic Muscle wrapped up last week and is still looking to crown a winner, with the poll closing tomorrow evening. Hop to it!
As a bonus, being the end of the year and all, we have two Best Of The Best polls currently open for two weeks for the regular PMC. We've collected the first 50 winners together into two multiple choice polls, and we need your help to crown winners! Pop over to the Weeks 1-25 poll and pick all the images you like, then do the same for Weeks 26-50.

Last Week's Theme: Uphill vs Downhill
Last Week's Winner: Grand Prix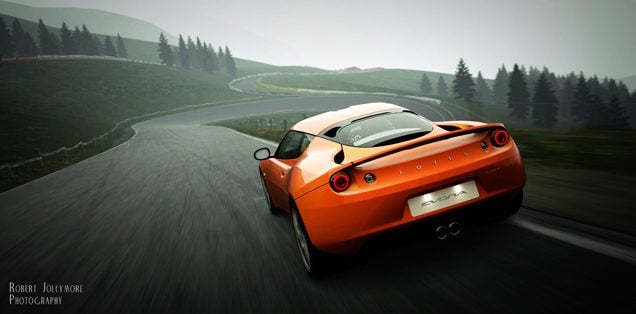 This Week's Theme: Grand Prix pulled off a definitive victory last week with his excellent Evora shot, and this week he's asking you to look at things a bit differently with Roads As Art. Cars aren't strictly necessary this week, as the focus is about the road, and using things like balance and harmony to really capture incredible images within GT5. You heard the man!
This Week's Poll: While this theme may have been better suited until after the 2.02 update, Is That A Standard certainly is still impressive, as these 15 images prove.  Our members took fantastic shots, and with a bit of post-game editing, have provided some of the best Standard car models you're ever likely to see. But which one is best? You know how this goes, head to the thread and cast that vote!
Like the PMC, 2.0 also has a Best Of The Best 2-week poll going on right now. Part 1 was finished months ago, but the winners of Weeks 21-40 are now in a poll for your viewing pleasure. Vote for as many images as you like, and submit your votes to help decide the winner!
Last Week's Theme: The Beauty Of The Beast
Last Week's Winner: Beccosinho
This Week's Theme: The Bugatti Veyron has come (and, nearing the end of its production run, gone), but for some, the McLaren F1 remains as the greatest modern example of the ultimate road car. Beccosinho certainly seems to think so with Finest Driving Machine. Take your F1 to La Sarthe and try not to pull an Atkinson!
This Week's Poll: The F1 may be a fine driving tool, but the Alfa Romeo 8C is right up there with Aston Martin's lineup as one of the most beautiful cars. Last week saw Alfa Passion focus on just that car, and as expected, our community didn't disappoint, providing a full corral of stunning images. Now, cast your vote for the winner!

Last Week's Theme: Christmas Cards
Last Week's Winner: Miklad
This Week's Theme: Well now, hope you're fast – Classic BMW Love closes today! Photoshop one of your favourite old Bimmers into a GT5 image, and send PD a message. Just saying, when we had a Spa theme in the Photoshop competition, it did end up in the game *wink wink*.
This Week's Poll: It was actually already decided! Miklad won the Christmas Cards theme, and it's right up there! The Photoshop competition's regular schedule will return after the holidays, so enjoy them!

Last Week's Theme: Twisty – Hilly
Last Week's Winner: bmxmitch
This Week's Theme: Oh look, another handy theme based on this week's DLC pack! Not just that, but the ability to change rims on Standards certainly helps this week's Volkswagen theme. Take a VW (though no Kubel/Schwimmenwagen or Golf IV RM) to most any track and submit your entry secretly to bmxmitch when you've got it.
This Week's Poll: Last week was a tribute to the little guys, the guys  that run under 2/3 of a litre of engine capacity. Yep, it was all about K-Cars. These little guys all were shot at various Japanese locations, and now you've gotta pick the best. Who said bigger was better?
All sound a bit complicated? Read this thread for an explanation on how to get your images off your PS3 and onto a computer, and read over the individual rules in each competition's thread. If you're further stuck, feel free to Private Message me (click here). Start snapping those digital shutters!