Fifteen years ago, I sat in front of the family computer, listened to that sound of a dial-up modem connecting to the Internet, and set out to tackle the seemingly impossible and exciting task of building my very own website: GTPlanet.
The Internet was a very different place back then. There was no Facebook, Twitter, Reddit, Instagram, or YouTube. No apps, smartphones, or tablets. I was a 14-year-old who had no idea what he was doing, but as I built those first pages and exchanged messages with other people around the world on my fledgling new site, I knew I had found my passion. In all the years that have followed, I still feel that same sense of excitement as I work on my own little corner of the Internet.
From the start, nothing about building GTPlanet has been easy. I didn't know what I was doing when I started, and in many ways, I still don't. There is no instruction manual.
Every day brings a new challenge, a new decision to make, a new technology to learn, and a new opportunity to seize upon. I have to figure out how to make it work every day. It's stressful, demanding, infuriating, exhilarating, and fascinating all at the same time. It teaches and tests me in ways that nothing else has.
As much as I enjoy that challenge, that's not what makes GTPlanet so exciting to run — it's you. Each morning I wake up to thousands of new messages posted in our community, and I see you making new friends, helping one another, competing with one another, debating one another, and supporting each other through difficult times. When I see how this website — that I've spent half of my lifetime to build — has affected so many people in so many positive ways, it gives me an overwhelming sense of satisfaction.
None of that would happen were it not for you — all of you — who spend part of your day here, and for that I can only say thank you. I am truly grateful.
I would also like to extend a special thank you to Kazunori Yamauchi. Without the Gran Turismo series, GTPlanet would not exist. There was just something about GT games which felt "different"; they inspired me in ways that no other movie, book, or game ever has. For some of you, that might sound a little strange, but if you "get it", you know what I'm talking about. Thank you, Yamauchi-san.
A Quick Look Back…
When GTPlanet celebrated its 10-year anniversary, I wrote an extensive outline covering the site's origins and history. In the five years since, we've hit dozens of milestones, but there are a few that I'd like to highlight:
After that anniversary in 2011, we quickly hit 5 million posted messages, and in 2012 we published our first book, GTPEDIA: GTPlanet's Guide to the World of Gran Turismo. Written by Andrew Evans (@Famine) and edited, designed, published and printed by myself, it was quite an overwhelming project, but I'm very proud of what we accomplished!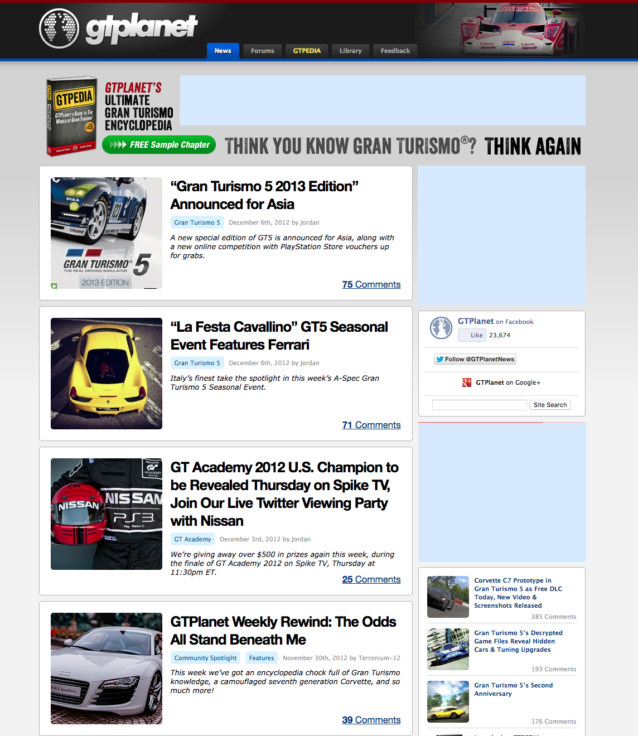 As the GT series celebrated its own 15th Anniversary in 2013, lots of traveling was on the books! We were on hand for the franchise's anniversary celebrations at Silverstone, and the massive launch party for GT6 later that year in Ronda, Spain.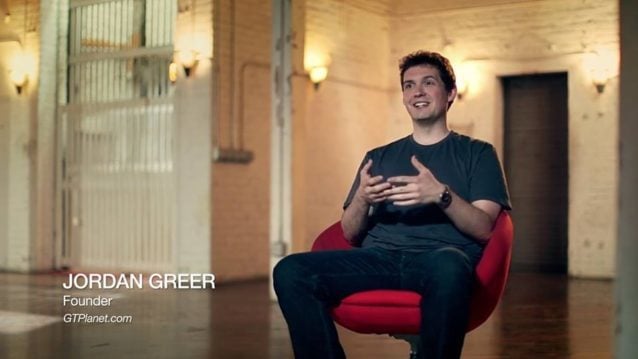 In 2014, it was a distinct personal honor to be included in Sony's award-winning documentary about Kazunori Yamauchi and the Gran Turismo series, KAZ: Pushing the Virtual Divide, where I had the chance to provide a fan's perspective on Yamauchi-san and the franchise at large.
Later in 2014, we partnered with Polyphony Digital to host a special Q&A forum for fans to send feedback to Kazunori. Acknowledging the most popular question, Yamauchi-san vowed to prioritize improvements with the game's audio. Since then, Polyphony Digital has made a significant push to hire new audio engineers, and we're finally starting to hear the fruits of their labor in Gran Turismo Sport.
In December of that year, the site hit another major milestone, reaching 10 million messages posted in the GTPlanet Forums and securing our place among the largest message boards on the Internet.
2015 started out with a very special surprise… Thanks to community members Willfred_1 and FLX1981, the RUF CTR-3 in Project CARS featured an official GTPlanet livery — the first time a car bearing our logo was featured in a retail video game!
Our resident author, Andrew Evans, was also busy in 2015. We published our second book together, Gran Turismo 6: The Unauthorized Player's Guide, as a way to help players of all skill levels get the most out of the game.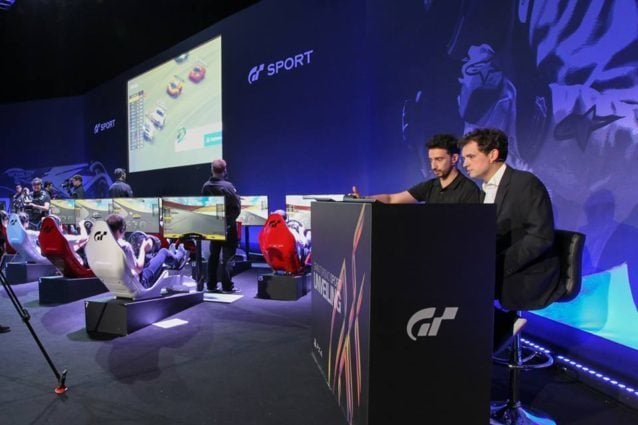 For 2016, the undoubted highlight was being invited to co-host the big reveal of Gran Turismo Sport from the Copperbox Olympic Arena in London, UK. It was exhilarating to be part of the event — watched live by over 30,000 people — and to help open the next chapter of the GT franchise.
Even better, GTPlanet had the opportunity to partner with event organizers to help distribute tickets to the public. We have a higher concentration of visitors from London than any other city in the world, and you snatched up our tickets in minutes. The resulting event turned into the ultimate meet-up for the GTPlanet community, and it's something I'll never forget.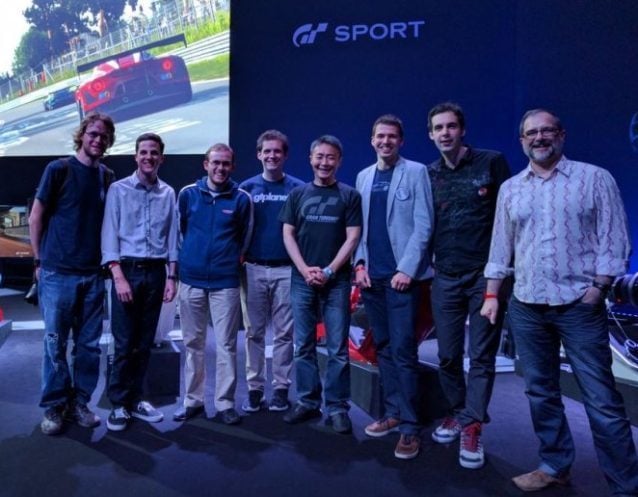 Running a website like this is a solitary activity, so the opportunity to meet so many of the people whom I've interacted with for so many years was surreal. It was an incredible, satisfying reminder that above all, GTPlanet is about connecting real people, from all walks of life, from all around the world.
Looking Ahead
As we are about to begin 2017 and move past our first 15 years online, I have never been more excited for the future of GTPlanet. Both the Internet and the world of racing games are changing, and the rise of eSports and competitive gaming looms over the horizon.
We, too, will continue to change and adapt. Launching this January, an all-new look for GTPlanet will be revealed, making the site easier to use, and making it easier to find and explore all of the content posted here each day.
The changes won't just be cosmetic, though. In addition to our obsessive Gran Turismo and console racing game news, we will continue expanding our editorial coverage to include more of all your favorite titles, including PC sims, mobile games, and sim-racing hardware.
We will also be covering the biggest headlines from the automotive world, motorsports, and car culture, in addition to all the eSports racing news that is sure to feature prominently in 2017. The lines between reality and the virtual world continue to blur, and GTPlanet is going to be right in the middle of where it all comes together.
We Need Your Help
Over the past year, I have been getting a lot of help from our growing editorial team. Kyle Patrick (@SlipZtrEm), our Editor-in-Chief, and our contributing writers, including Michael Leary (@Terronium-12), Brendan Rorrison (@Brend), Matej (@Matej), and Dustin Moore (@Dustin Moore) have been putting out a lot of great content for you.
To continue our expansion, though, we're going to need a lot more manpower!
If you have a love for racing games and cars, possess strong writing and communication skills, and keep up with the latest news and technology, send us an email.
New Merchandise!
One thing I'm often asked about is official GTPlanet apparel, so to help commemorate our 15th anniversary, I've worked with a local clothing company to produce some new, exclusive GTPlanet t-shirts! Featuring premium fabric and high-quality screen printing, these shirts are unlike anything we've ever offered before.
Click here to get yours right now, direct from the GTPlanet Store.
Once Again, Thank You
As I write this post, reviewing all of the incredible things that have happened here, I am once again overwhelmed with the gratitude I hold for all of you who make it possible.
When people talk to me about GTPlanet, the question I'm asked the most is, "Could you ever have imagined it would become what it is today?" My answer is always "No!", but that's not entirely true. While the site has indeed become successful beyond my wildest dreams, something has always felt special about this place. I feel it, and I hope you can feel it, too.
Here's to the next 15 years!
See more articles on gtplanet.