To say that 2017 is a good year for racing games would be an understatement. We've already had DiRT 4 and F1 2017 from the house of Codemasters and this fall, the Big Three of sim racing games is going to get involved.
Project CARS 2, Forza Motorsport 7 and GT Sport are readied to lock horns with the aim to win racing fan hearts. Each will offer a vastly different experience yet its hard to deny that each will be hoping to come out on top as racing game of the year. GTPlanet has looked at the lineup and made a host of predictions for what we expect.
We've got our flame shields at the ready — let's take a look.
Forza Motorsport 7: Tons of Content, Tons of Acclaim
It's no secret that in terms of raw content Forza Motorsport 7 stands above the rest. GT Sport's condensed approach is looking to solve the series' recent quality inconsistencies, whereas Project CARS 2 offers a nice middle ground with a massive track list and decent amount of cars. Turn 10's latest will offer over 700 vehicles complimented by more than 30 tracks, a high for the Motorsport series. We've been covering each car list reveal and whilst there are a lot of familiar faces in there, it's looking very good. This isn't so much a prediction as a statement — for raw value Forza Motorsport 7 stands above the rest.
The next prediction is a controversial one, however. In recent times the Forza series has been a critical darling. Across Motorsport and Horizon, Microsoft has had a reliable force for quite a while, scooping up high scores and awards on a yearly basis. Comparing it to the GT series and SMS' recent titles, there's a clear trend.
The Forza Motorsport series consistently pulls in high scores above 85. FM5 is the sole fly in the ointment, struggling to shake complaints about limited content and gaudy microtransactions.
Whilst Gran Turismo is still the biggest name in the genre, critics have become more and more disillusioned over time. Unsurprisingly, GT6 was the least successful yet, struggling to capitalize critically and commercially alongside the initial PS4 launch.
Slightly Mad Studios has an impressively consistent rate since the PS3 era. EA's Need For Speed Shift series resonated with critics thanks to its flashy presentation and varied gameplay. The original Project CARS also occupied a space in between Polyphony and Turn 10's latest efforts.
This simple comparison doesn't tell the whole story, though. The reason we believes Forza will come out on top is down to two key factors: standard and consistency.  What some fans may consider a negative — evolution, not revolution — is a huge plus for critics. General gaming outlets like IGN will go into Forza 7 and know exactly what to expect. Any changes to the game at this point seem to be improvements in much needed areas like the career mode.
These iterative improvements should build on Forza 6 and offer an overall better experience. Forza 7 is looking far from a radical re-think of the franchise, but it doesn't have to be. This time around, its up to Gran Turismo and Project CARS to rewrite the racing rulebook. Project CARS 2 is the biggest threat in this category with its huge track list and Live Track 3.0. If all works as it should on release, it's not a stretch to see it taking Forza straight to the finish line.
GT Sport's biggest issue will be dealing with misconceptions on what the game is about. Despite Yamauchi claiming that only 15% of the game is online, it's clear where the future of GT lies. We expect complaints about a lackluster solo experience and a limited feature set compared to its rivals. The impressive livery editor and graphics will most likely be praised by critics — deservedly so.
Taking into consideration the risks being taken by the competition and the general pattern of critic reception, we see Forza Motorsport 7 coming out on top.
Project CARS 2: The Racing Fan's Choice
Project CARS 2 has a lot to prove this year. The original title had fans, but questionable controller support and a buggy launch marred the game's reputation. Despite its shortcomings, Project CARS still found an audience that was hungry for more. Enter this year's sequel.
If there's one thing we know about the game at this point is that the combined marketing teams of Slightly Mad Studios and Bandai-Namco talk a great game. The marketing push started in January and since then we've been ambushed with reveal trailers, impressive Live Track 3.0 updates and insights into every nook and cranny of the game. Sim racing fans have enjoyed the early impressions of Project CARS 2 and majorly agree it looks like the definitive motorsport experience.
Come the end of the year, we expect Project CARS 2 to top many fan polls as the best digital motorsports experience of 2017. The attention to detail and overall feature set is difficult to compete with. Live Track 3.0 should offer dynamic racing on the 60-plus list of tracks. The sheer diversity in disciplines represented tackles the competitors head on and multi-class racing complements this just as well. Fully animated pit stops, an improved photo mode and a noob-friendly race engineer mode act as the cherry on top.
This is highly dependent on Slightly Mad Studios fixing the main concerns with the first game — but early impressions suggest this is the case. We found our E3 hands-on experience a bit lacking, but we've long suspected this was due to the setup. In fact, we've been spending time with the media preview build the last few weeks and have good news on that front. Expect our detailed preview thoughts tomorrow.
Forza Motorsport 7′s safe approach will resonate with players, but we don't see it breaking down any walls. Meanwhile, GT Sport's radical change in focus is bound to alienate some long-standing fans of the series. That means Project CARS 2 has it all to prove and SMS is looking good for the win. Let's just see how it plays come September 22.
Gran Turismo Sport: Most Graphically Impressive, Most Copies Sold
GT Sport will attempt to rewrite the series' DNA with a vested approach to competitive online racing. It's no surprise that this may not appeal to the traditional GT fanbase (and beyond) but that may not matter — the Gran Turismo brand is still huge. As one of PlayStation's flagship franchises, the game should do big sales numbers. Looking at each mainline title's performance, it's clear that GT stands head and shoulders above the rest. Even GT6, considered the worst entry in the franchise by some, still managed to sell more than any other racing game in the last five years.
It shouldn't come as a shock then, that we're tipping GT Sport to sell the most copies between our three big hitters. The mainstream appeal and brand recognition of GT is something the other games can only dream of. Built up from the PS1 era, Polyphony has a lot of goodwill to work with. If any franchise could take such a severe change in direction, it's Gran Turismo. The recently announced PS4 bundle should only help these sales, too. There's a good chance it won't come close to the GT5 juggernaut but we still expect the PS4 debut to outsell its competition this fall.
The other area we expect GT Sport to excel in is the visuals department. Polyphony's condensed approach has allowed it to focus its graphical wizardry on a more neat selection of vehicles and tracks. The level of detail on each car is simply incredible and the famous GT lighting engine just illustrates this further. Those on PS4 Pro are also bound to get an even more impressive looking title. Add Scapes into the mix and you've got that classy GT polish that makes us so attracted to the franchise.
This isn't to suggest that Forza Motorsport 7 and Project CARS 2 won't be lookers. The proof is in the pudding and many trailers have showed these titles don't slouch in the visual department. Polyphony's expertise should win through in the end, the only potential blight being a small selection of slightly lifeless racing circuits.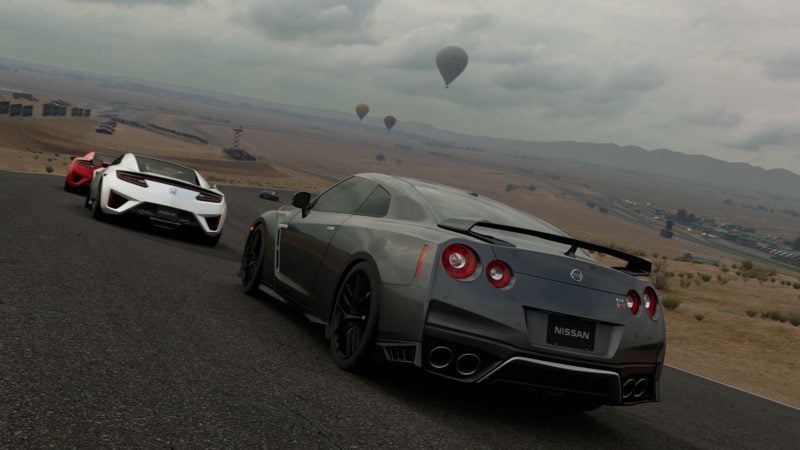 Who Takes The Esports Crown?
As the sim racing genre radically shifts toward esports, it's no surprise that three of the biggest games we'll see this generation will all aim to capture that market. GT Sport has official FIA certified events, bringing motorsport prestige to the virtual scene. Project CARS 2 has a similar feature set that includes an advanced sportsmanship and driver license system. It will also be able to rely on previously created relationships with the ESL — an established eSports entity. FM7 will continue the Forza Racing Championship, offering the best drivers of the series an environment to compete fairly.
Even if you look at the other title's offerings, this is an area that GT Sport must lead in. The decision to build a relationship with the FIA and heavy investment in pre-release live events mean Polyphony is all in. Project CARS 2's aforementioned ESL partnership is a threat but actual viewing figures for these events aren't anything great. The same goes for Forza RC, which fares well enough mostly due to the name attached to the series.
GT Sport has the full backing of PlayStation's mainstream media channels. Once the game releases, we think it'll be difficult to avoid the competitive racing hype. Expect live streaming on Facebook, Twitch and everything in between. GT Sport's TV-inspired spectator mode should only add to the appeal, offering a comprehensive viewing experience.
Still though, it remains to be seen how much the general esports audience cares for official FIA certification. The best-performing esports are usually far from reality, so the idea that a real governing body certifies an event may induce a shrug of the shoulders. Whilst Project CARS and Forza have found their niche in their respective tournaments, GT Sport appears to be aiming for something a bit more. We'll just have to wait and see if it takes off.
One Thing is For Sure: 2017 is a Fine Year For Racing
Wherever your allegiances lie — or if you're one of those strange people who like more than one series — the remainder of 2017 is a cracker. For the first time in quite a while, we have three massive racing titles all trying different things.
You've got Project CARS 2's passion for motorsport; Forza 7's take on being a car encyclopedia; GT Sport's head-first approach to online racing. Smaller titles like Need For Speed Payback, Baja: Edge of Control and WRC 7 just illustrate this point further.  Even if you bought all these games, each one would provide a unique experience. No matter how our predictions pan out, we can't wait to see how the sim racing Big Three perform.
See more articles on Polyphony Digital, Slightly Mad Studios, and Turn 10.