Back when Gran Turismo Sport launched in October 2017, it faced two main criticisms. The first was that no true offline mode existed, while reviews also pointed to the relatively small amount of content.
It didn't take long for the GT League aspect of the game to arrive. By December 2017 there were offline races in four categories, unlocked by your driver level — which showed the original design purpose behind the jewel-themed ranks. It gave the game the old-school Gran Turismo feel, for better and worse.
Addressing the lack of content has taken a little longer. However last week's arrival of the Mazda RX-Vision Concept GT3 means that GT Sport now officially has twice the content it did at launch. We're taking a look at how it got there.
Circuits: An extra 110%
GT Sport launched with 39 circuits, at 17 locations. The mix was a little odd, with three different rally track locations — which are very rarely used anywhere in the game — and three separate ovals. That ultimately meant 11 locations for true race tracks, and the selection was also a little strange.
Six of the tracks were real-world circuits, with five returning from previous games and Interlagos making its debut. All of the remaining circuits were fictional ones and new to the series.
While the post-launch locations hasn't quite doubled, we've seen 12 more turn up, with 10 new and returning real tracks — including the much-requested return of Spa — a new fictional setting in the south of France, and a single returning fictional circuit. The choice for that track is also a little odd, as it's the massive test circuit oval at Special Stage Route X.
In total though, we've had 44 extra circuit variations to play with. This has included infield layouts at one of the ovals, road courses at a rally location, and alternative routes elsewhere.
That broadly equates to a whole new circuit every three weeks since the game's original launch, spread across 16 updates. However, this rate has dried up a little recently. Since Laguna Seca arrived in December 2019, there hasn't been a new circuit in the game.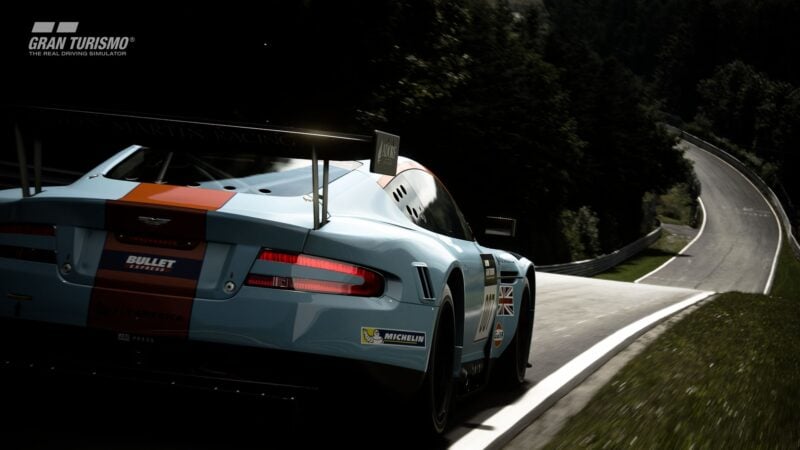 Cars: Double the fun
As noted above, the Mazda RX-Vision Concept GT3 marks the exact point at which GT Sport's vehicle content has doubled. The game shipped with 168 cars, and the new Mazda makes an additional 168 cars, for a grand total of 336 cars.
Naturally, the majority of these came earlier in GT Sport's life. Recent updates have tended more towards the lower single-digit quantities, with the exception of the updates in November and December 2019 with seven cars apiece. So far in 2020, that total of new vehicles is just five, but that has helped the game up to that 336-car mark.
While the game's initial content was heavily tilted towards racing cars — to suit the FIA Online Championship — the DLC strategy has moved things in the opposite direction. The first version of the game featured 80 racing cars, with another 34 unclassified "Gr.X" race cars, and just 54 road cars of varying flavors. By comparison, the updates have brought 114 more road cars and just 21 race cars, plus 33 more Gr.X race cars.
Some of these classifications are a little awkward. Road cars like the Porsche Taycan and Tesla Model S are included in the Gr.X umbrella, necessary as their electric power trains are not conducive to racing with cars that can refuel in the pits. Nonetheless, exactly half of the cars in the game — 168 — are now road cars, with 101 race cars of various types, and 67 Gr.X curios.
Like GT League, this has given the car mix in GT Sport more of an old-school Gran Turismo feel.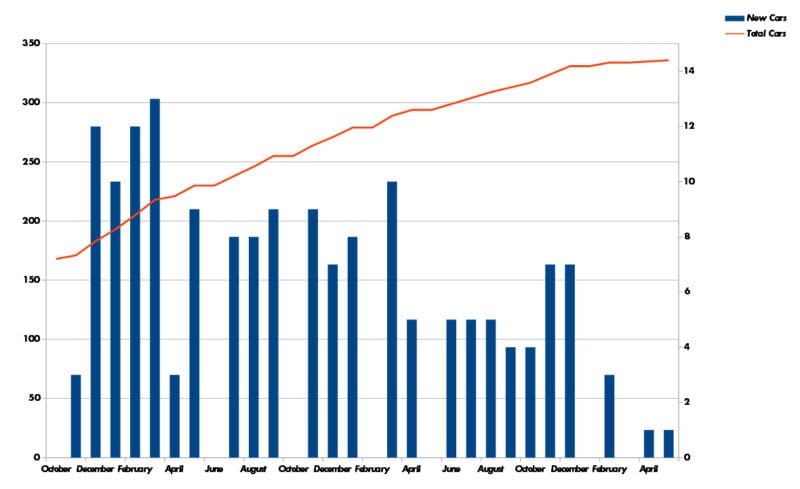 GT Sport's Future Updates
Kazunori Yamauchi said at the beginning of 2020 that the game's updates would become "more modest", both by frequency and content.
The figures bear this out. When we last calculated the average content update, it had eight cars and two(ish) tracks, and arrived every 28 days. Now it's down to six cars and 1.6 track layouts, landing once every 35 days.
There seems to be a clear winding down of new things to play with, perhaps with the next game in mind. However there's still six months or so to go until that comes to pass, and the new Mazda and Aston Martin Gr.3 cars show that Polyphony Digital still has some love to give to GT Sport.
Although you don't need to take a second mitten off to count the remaining confirmed vehicles — two Porsches and a Lamborghini Vision GT — the current global situation may change a great many plans. There might be life in the old dog yet!
Featured image courtesy of daan.
See more articles on GT Sport DLC.