A year ago today, Polyphony Digital officially revealed Gran Turismo Sport at a grand event in London's Olympic Park.
The event, in the Copper Box Arena, allowed an opportunity to play an early version of the game for the first time. Surrounded by all of the Vision GT cars to date, Kazunori Yamauchi revealed key details about the game.
It's been 365 days since that evening in London, and we're reviewing what else we've discovered about GT Sport in the intervening year.
Release date
This was one of the key pieces of information shared in London, but has since gone by the wayside. Yamauchi announced a global release period of November 15–22 2016, but a message on the Playstation blog revealed a reschedule.
At present there is no official release date, although many retailers expect the game by the end of 2017.
Public beta
Fans had been expecting a public beta in early 2016, but this had not happened by the time of the Copper Box event. During the show we discovered that the beta was postponed. Yamauchi told us it had become necessary in order to meet the release date announced at the event.
As noted above, this date has now slipped. Some fans though can enjoy a closed beta, which went live in March. Crucially, the beta allows the opportunity for Polyphony to test the new dedicated servers.
Vehicles
We've seen a number of new vehicles announced, but one addition has been more significant than most. Following the end of a much-derided exclusivity agreement, Gran Turismo finally has Porsche.
Probably the most-requested marque, the addition of Porsche is something to delight many fans. Porsche itself has suggested that it will continue to support the game with new content, which is good news as the game may end up with over 500 cars over time.
Kazunori also confirmed that GT Sport will not include "standard" cars — legacy models from old Gran Turismo games.
Tracks
The Copper Box event featured relatively few circuits. The demo there included Nürburgring, of course, alongside Brands Hatch, a new Tokyo street circuit and the Northern Isle Speedway oval.
Since then we've another oval added – Blue Moon Bay – in a three-track announcement, along with Dragon Trail and Sardegna Windmills.
Most significant of all though is the inclusion of Interlagos. This incredible real-life circuit has yet to feature in any gameplay demos or preview videos, but we can't wait.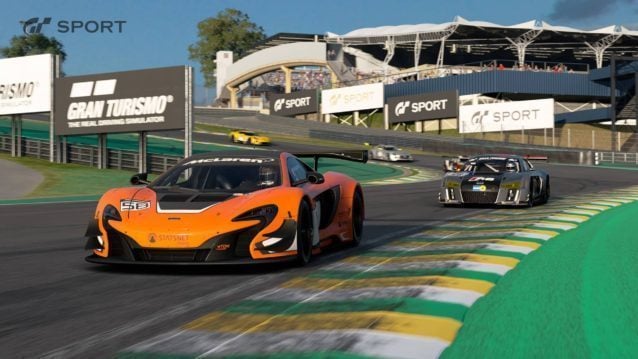 Hardware
Gamers have had a hard time using their old wheels with the PS4 generation of racing games. Fortunately Polyphony wishes to continue to support these wheels with Gran Turismo Sport.
Those looking for something new though can't have missed the new Thrustmaster option shown at the Copper Box. We've had a closer look at it since, but details are still rather sketchy.
We've also seen GT Sport used with Playstation VR for the first time.
Online
Clearly the biggest news was the dedicated server option mentioned above. That aside, we've also seen more details regarding online matchmaking. Drivers are assigned rankings based on their ability and fairness, to keep the dreadful apart from those playing more seriously. Those currently playing the closed beta are experiencing how this works first-hand.
A Balance of Performance modifier is also applied to vehicles online. This ought to ensure that whatever car you pick is closely matched to others in the same class.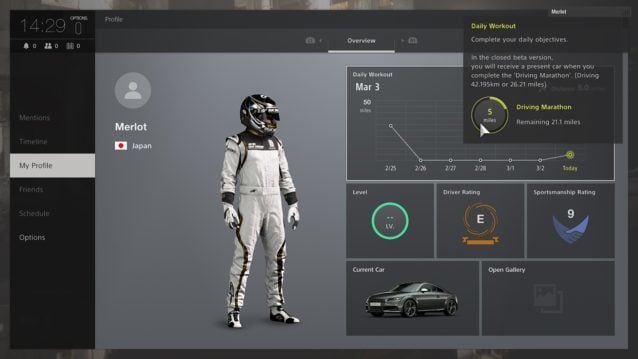 What we don't know
A number of features remain unexplored. To date there has been no further information on the livery editor, photomode or scapes. The offline portion of the game, briefly explained at Copper Box, is still something of a mystery too. Polyphony also remains quiet regarding details on the various online championships, including the FIA events.
With the game still ear-marked for a 2017 release, and a jam-packed E3 just around the corner, GT fans likely won't have to wait long for more details.
More Posts On...