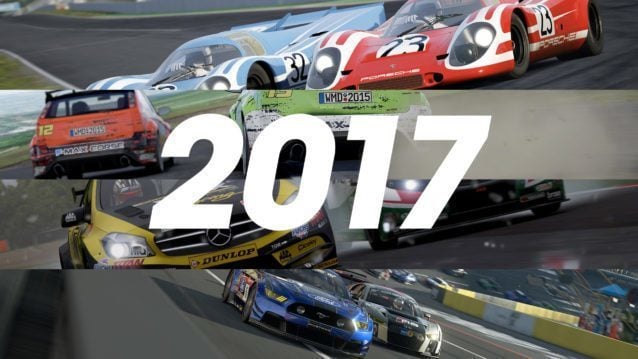 Now that we're all suitably re-hydrated from New Years celebrations, it's time to look forward: this year is going to be great. 2016 wasn't bad by any means — you can read all about it in our Year In Review — but we truly believe 2017 will be looked at as a high-water mark for the sim racing genre.
Of course, we're not just blurting this out without giving it some serious thought. Below you'll find, in no particular order, the top five reasons we've come to this conclusion.
The Rise of Sim Racing eSports
If anything, 2016 offered a taster of things to come in terms of competitive gaming. Project CARS arguably led the way with numerous different events (most recently the Ginetta Cup). Just recently, Creative Director Andy Tudor told eSports+Cars that the sequel — tentatively scheduled for a 2017 release — would feature dedicated eSports features "from day one".
Turn 10 dipped its toes in the competitive gaming pool with the Forza Racing Championship, with an example of Ford's wild Focus RS up for grabs the inaugural season. The second season may not have had a car as the grand prize, but brought with it more cash prizes than before. We expect the eSports push to continue with this year's Forza Motorsport 7 (recently confirmed to be coming by none other than Fanatec).
Speaking of upcoming games, we can't talk about competitive sim racing without mentioning Gran Turismo Sport. Polyphony's racer may have been pushed back from its original November 2016 launch, but it has the name recognition that could push sim racers to the level of popularity typically reserved for shooters and MOBA (multiplayer online battle arena) games.
There are big names from the automotive realm lining up to sponsor these events, too. GT Sport has the FIA — the world's pre-eminent motorsport governing body — organizing racing competitions involving digital licensing and a spot at the end-of-year award ceremony. Forza had the sponsorship of the Blue Oval for ForzaRC Season 1. Even Porsche is considering a dedicated eSports team. Speaking of the most successful manufacturer racing has ever seen…
Porsche, Porsche, Porsche
You'll want to brush up on your pronunciation (care of Porsche itself), since you'll be hearing the name a lot more in the sim racing world this year. Last month, Christmas came early when we broke the news of the EA exclusivity deal with Porsche finally coming to an end. Sure enough, the floodgates are starting to open up: iRacing has already announced the marque will be arriving in the lauded PC sim later this month with four of its latest track weapons.
Of course, Assetto Corsa has been closely associated with the marque for a few months now, after just releasing the third (and final?) Porsche pack late last month. It wasn't the only console-based sim to do so: Forza Motorsport 6 brought a similar number of cars to its lineup back in the spring. Project CARS 2 is also said to feature the Stuttgart sports car manufacturer.
That leaves GT Sport. While we have yet to see or hear anything regarding Porsche's inclusion, we know Kazunori Yamauchi is eager to add the marque to the lineup. We wouldn't bet against an announcement prior to release.
We just hope nobody forgets about Ruf in the rush to add Porsche!
Project CARS 2: Electric Boogaloo
The first Project CARS, a crowd-funded game by Slightly Mad Studios, proved quite successful, eventually selling over two million copies. Somewhat controversially, the sequel's announcement came very shortly after the release of the first game, and again adopted the "mass development" approach.
But we'd be lying if we said we weren't curious about the new game. Not only will it feature franchise newcomers Porsche and Lamborghini, but SMS is promising over 200+ cars from the start, covering a variety of disciplines, including hillclimbs and rally.
Even more impressively, the team is currently boasting a track list comprising 50 locations and a staggering 200+ unique layouts. Tying in with the inclusion of rally cars, the track list will include loose-surface locations as well, meaning we'll be dealing with dirt, gravel, and mud too.
Expect those surfaces to be even less predictable thanks to the game's unique (on this console generation) dynamic time and weather. While a 24-hour cycle is unfortunately rare in the genre, it almost sounds like the team at SMS sees it as a bit old-hat, since it's looking at simulating the change in seasons too, according to an interview with Engadget:
"With the first Project CARS we had the ability to do a 24-hour light-cycle simulation; now we will also be doing season simulations. You'll see snow in the winter or different leaf colors for autumn and it will dynamically change so you can set it to go through the seasons. It has such an impact on racing. For freezing temperatures on the racetrack, you want visual cues to know the effects it has on the car."
Things have been quiet on the PCARS2 for a while, but we're expecting to start hearing new developments on the project soon. There have been rumblings of a September release, which could prove to be a busy month for sim racers…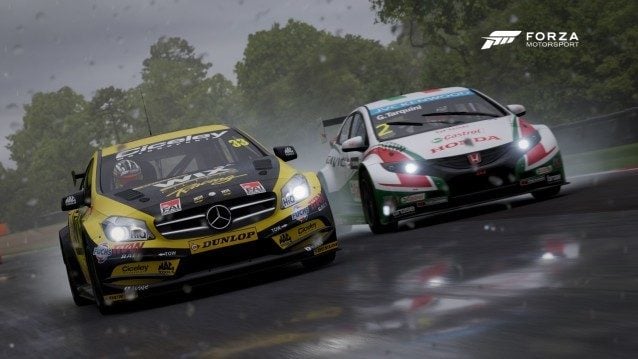 Scorpio-Powered Forza Motorsport 7
Since 2014's Forza Horizon 2, September has become the month where the Microsoft franchise has planted its flag. If that remains the case for this year's Motorsport title, we could be seeing the year's biggest title (in terms of content) kicking off the Autumn gaming season. It's worth remembering that this will also be the first full-featured Motorsport title to launch on PC too.
Fair warning here: we're heading down Speculation Street. Microsoft's Project Scorpio is set to launch around that timeframe, and we'd be surprised if FM7, as the premier racer for the company, isn't closely tied to the launch in the same way FM5 was for the vanilla One in 2013. The Scorpio is said to be over 4x more powerful than the original XB1, suggesting we could see genuine 4K gaming alongside Microsoft's own implementation of VR.
For reference, FM6 ended its run a few months ago with over 600 cars, 26 locations, and 173 layouts (though that includes rain and night variations). Assuming all — or even most — of that is carried over, as well as the new additions from last year's Forza Horizon 3, Turn 10's sim racer will be in a class of one with far and away the largest car lineup this generation.
With rain and night racing already in FM6, we're hoping to see the game adopt dynamic versions of both. If we're really lucky, we could see snow in the circuit racer for the first time, after it arrived in the Blizzard Mountain expansion in FH3 last month.
Depending on when the next game in our list releases, we could see the biggest head-to-head battle the two franchises have ever seen…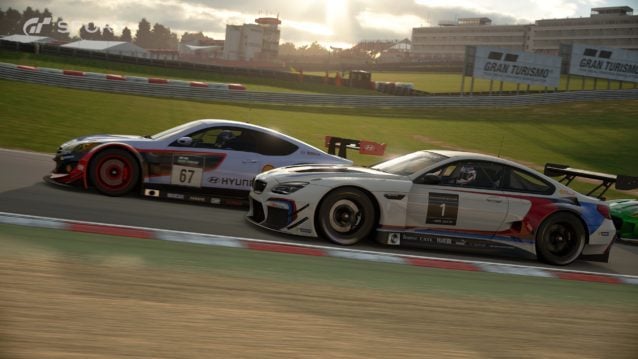 Gran Turismo Sport Gets the Green Flag on PS4
You knew this was coming. 2016 looked set to be GT Sport's year; the Forza series was on its arcade-racer alternate year, Project CARS support was winding down, and Assetto Corsa suffered a few speed bumps on its way to consoles. The one-two punch of the public beta being shelved in the first half of the year and the game being pushed to this year in the second means GT Sport will now be entering a crowded 2017 arena.
When exactly that will be is still up in the air. Contrary to some rumblings out of Sony South Africa, it's looking incredibly unlikely we'll be receiving the game this month. With the heavy focus on organized online racing via the afore-mentioned FIA partnership, perhaps a release closely aligned with the start of Spring (and the F1 season) is a possibility. There needs to be enough time to run a season before that awards ceremony in December, after all.
We know GT Sport will launch with 140 cars (though Kazunori has teased a much larger final total), 19 locations and 27 circuit layouts. Thanks to a presentation at PlayStation Experience last month, we know the game will feature full 4K and HDR support via PS4 Pro, as well as a dedicated "VR Tour" Mode. Dynamic time and weather may be gone, but Polyphony will be providing a smattering of pre-selected combinations at all circuits.
At the Copper Box reveal event — where our man Jordan had co-host duties — we saw the first hints of flags in the FIA Pre-Season Test. Creative types were overjoyed by the series-first inclusion of a livery editor at that same event, though it hasn't been explored in greater detail since then. These features, alongside the TV-style replays the series is known for, will enable GT Sport to better resemble real-world motorsports than any GT title before it.
Due to this, Gran Turismo Sport still seems like one of the best vehicles (pardon the pun) to deliver driving game eSports to the masses. GT6 crossed the five million sales milestone last August, making it the best-selling realistic racing game since, well, Gran Turismo 5. GT Sport may represent the biggest change in the franchise's two-decade history, but no other series boasts the name-recognition that comes with a 76-million strong sales background.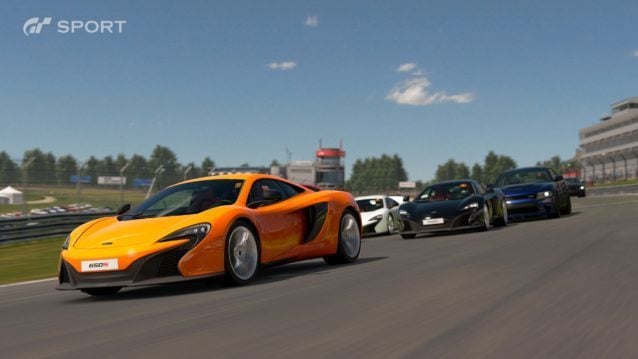 There you have it. The year has just begun, but on the evidence above, it could shape up to be the finest one yet for racing games. Have your own list? Share it!
See more articles on GTPlanet Lists and Porsche.