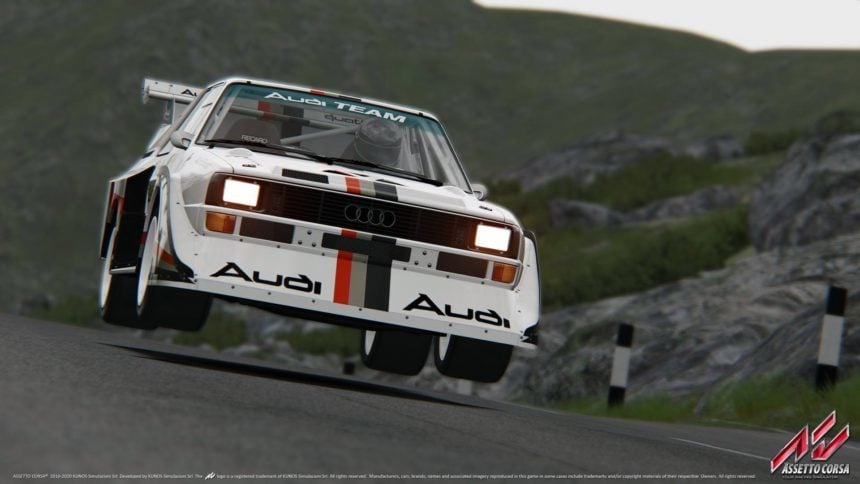 Today marks the one year anniversary of Assetto Corsa landing on consoles. To commemorate the occasion, we're taking a look back at Kunos Simulazioni's sim racer.
First, a bit of clarification: those keeping score at home will note that the game actually released on August 26 east of the Atlantic. But over on this side, it landed four days later — so we've gone with that. Of course, PC players had already been enjoying Assetto Corsa for literal years at that point.
The Road to Release
It's hard to believe Kunos made the original console announcement way back in June 2015. At the time, the console sim-racing landscape was very different. Gran Turismo was MIA on the current generation — in fact, GT6 players were still waiting for the track editor. Slightly Mad Studio's Project CARS, arguably AC's closest competitor, had recently arrived on consoles to mixed reviews. Meanwhile, Turn 10 was preparing Forza Motorsport 6 as a cap on the franchise's first decade.
Assetto Corsa sounded like something different. The physics engine was its primary claim to fame, with the developer promising exceptional realism. To prove the point, Kunos released a series of comparison videos, like this one featuring an Alfa Romeo 4C. There was a palpable sense of authenticity here: a single drive in any of the modern Ferrari F1 cars confirmed Kunos wasn't willing to dumb down any aspects of the experience to satisfy more casual players.
Kunos originally earmarked the game for an April 2016 release. Unfortunately, that was pushed back to June. Another delay a few months later knocked it back to the August dates.
Obviously, that release window stuck. Circumstances had changed, too: Polyphony Digital had announced GT Sport after the original AC console news, but pushed it to 2017 literal days before the actual release. This cleared the field for Assetto Corsa: the only other big title it had to compete with in the tail end of last year was Forza Horizon 3. Playground Games' open-world romp was operating in an entirely different sphere of the racing genre.
It was June 2016 when Kunos pulled off its most impressive coup, though. Right after E3 had wrapped, the Italian developer dropped a bombshell: Porsche was coming to Assetto Corsa. This was huge news, months before we broke the story that EA's stranglehold on the Porsche license had come to an end.
Touching Down on Consoles
Leading up to the console launch, Kunos' Marco Massarutto insisted that the physics that had made Assetto Corsa such a hit on PC would not be watered down on consoles. Massarutto was a man of his word — the positive driving feel remained intact. We loved that aspect of the game when we did our exhaustive Assetto Corsa review.
It was the content that proved different from the original PC release. Pleasingly, some of the 90+ launch cars were DLC on PC, like the oddly-named Tripl3 car pack. In other cases however, cars that had been DLC for months were still nowhere to be found on PS4 and XB1. To its credit, Kunos quickly began the update process, bringing DLC (both free and paid) to the game within weeks of release.
The track list was a little sparse. What it lacked in quantity, it made up for in quality. Kunos had laser-scanned every track with exception to Zandvoort and the dedicated drift track. Genre staples like Spa, Brands Hatch, and the Nürburgring were all present. In the case of the latter, it boasted the largest number of variations seen on consoles. The Tourist layout allowed players to live out their own track day fantasies. It made for some awesome augmented VR videos, too.
Naturally, players couldn't wait to get their hands on Porsche. A month after PC players welcomed the Stuttgart marque, the first of three packs landed on PS4. Unfortunately, Xbox players had to wait — a theme that would become apparent down the road.
2017: The Hunt for PC Parity
This year kicked off with news that the Italian-themed Red Pack would be making its way to consoles. Alongside it, the second of three Porsche packs also arrived. Kunos also teased a new fantasy circuit based in the Scottish Highlands.
However, the gap had grown. The one-month wait between the first Porsche pack's release on PC and PS4 had expanded to two. The day after the third Porsche pack released on consoles, the Highlands track showed up on PC. A month later, the 787B, MX-5, and 911 RSR arrived.
As our mothers always told us growing up, good things come to those who wait. Since the game's release, sim racers had been clamoring for the ability to create custom lobbies on consoles. Originally earmarked for April, the feature arrived in the massive 1.14 update on PS4 in May. Now, you could easily race with your mates, however you saw fit.
Xbox players once again had to look on from afar, though. It would be another two months before the update arrived on Microsoft's console. As a tiny team, Kunos ran into multiple speed bumps within Microsoft's submission process.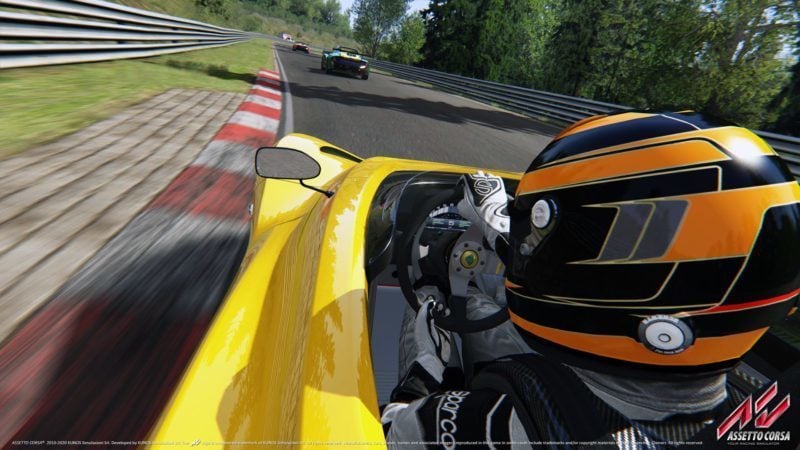 Where Next?
We've got to hand it to Kunos Simulazioni: despite the game launching way back in early 2014, there's still a lot of gas left in the tank. Case in point: the team recently held a community poll to determine one of the cars to be added to the Ferrari 70th anniversary DLC pack. The winner? The latest Formula One prancing horse.
The last car pack to hit PC was the Ready to Race set back in May. After the numerous setbacks with other updates, it appears Kunos has wisely kept announcements at a minimum until console updates are absolutely locked in. We hope this means the team is focusing on getting all platforms on the same page.
There's other content to look forward to, as well. We could see Laguna Seca before the year is out. Massarutto also teased the lovely Alfa Romeo Giulia nearly a year ago. Yes please to both.
With this season's deluge of racing titles, we're curious to see what Kunos Simulazioni has in store for its sim racer to keep mindshare. Assetto Corsa is quite a different beast now than it was at launch — let's see how it continues to evolve in its second console year.
More Posts On...