It doesn't seem like it, but two years has now passed since GT Sport landed on our consoles. After a long wait that became unexpectedly longer, Polyphony Digital's first racer on the PlayStation 4 finally arrived almost four years into the console's life.
The message from the studio before release had been the pretty brutal burn it to the ground, and the game represented something of a departure from what had gone before. Sure, it was still about racing cars around tracks with achingly pretty visuals, but some of the Gran Turismo-ness had gone. At least for launch…
As we covered in our year-on retrospective in 2018, Polyphony Digital had been adding some more familiar touches back to the game. With another 12 months under its belt, and another candle to blow out, we're looking at the current state of play in what might be this console generation's only Gran Turismo title.
Content vs. Discontent
It's an exaggeration, but only just, to say that GT Sport was half the game at launch that it is now. The original game arrived with 168 cars (if you're willing to consider two alternative livery vehicles as separate cars), and now it packs in some 312. That's 144 cars added, or about one new car every five days, if you're keeping score.
The vehicle parc mix is quite different too. At launch, the overwhelming majority were the race cars soon required for the game's signature FIA Online Championship mode, but while race cars still, just, outnumber road cars, the additions over the last two years have been more familiar Gran Turismo fare. It's tough to believe that GT Sport launched with no Nissan Skylines at all — something of a drop from the 56 various models in Gran Turismo 6 — but it did. Updates in the first year remedied that and now there are three, with road versions of the R32, R33 and R34 Skyline GT-R.
Other iconic cars from the game's past have come through updates too. The Mitsubishi GTO finally completed the original set of six Gran Turismo 1 halo vehicles when it arrived in August, joining the Subaru Impreza WRX STi Version VI, Honda NSX Type R, Toyota Supra RZ, Mazda RX-7 FD, and the aforementioned Skylines. All came in game updates.
That's brought a more familiar feel to GT Sport, and the game continues to gain both brand new vehicle content and classic and vintage cars as pioneered by PS3 versions of the game. Toyota's new Supra is among the cars to debut on the game as it hit real-world roads, and GT Sport players even have the opportunity to give feedback to Toyota on the car.
The rate has slowed, however. Kazunori Yamauchi told us earlier in the year that the team isn't holding back any content, but publishing it to the game when it's ready. Despite now employing some outside agencies, the number of cars that came to GT Sport in its second year is a third less than what arrived in year one, at 57 to 87. This leaves some way to go before the game hits that "four to five hundred cars" mark — November 2022 for the lower bound on that form.
That said, the studio is still planning content updates, and still bringing bleeding edge content, with the new Porsche Taycan arriving this month as part of a partnership with Stuttgart that will continue through 2020 at least.
Polyphony Digital hasn't been shy on adding new circuits to the game either. The original 17 locations is now 27, and the variety is tough to argue with. Over the last year, GT Sport has picked up F1-grade venues like Circuit de Barcelona-Catalunya, the Super Formula and Super GT track at Autopolis, and even new original circuits like Sardegna Road.
The recent focus though has been on wet weather circuits. Dynamic weather — and time — isn't going to happen this generation, as a sacrifice for making the game work in 1080p locked at 60fps on even the base PS4, but Polyphony Digital has been able to add wet conditions to two of the locations in recent months. Both Red Bull Ring and the Tokyo Expressway — on two of the three circuits — now sport optional wet weather, and this is likely to expand to other tracks in the coming months.
Game Changer
Most of the major changes to GT Sport happened not merely within the first year but within the first months. For example, GT League arrived and added a much needed not-online mode — it's not truly offline, as you still need an active connection to access it, but the races are against the AI rather than humans and don't require PS Plus.
The last 12 months has been more of a station-keeping affair, although that's not to say that there haven't been changes. A new online Time Trial mode arrived over the summer. This allows players not to race one another, but to go on hot laps to compare their times to the world — similar to how the first GT Academy competition qualifiers functioned. Notably, this is the only competition aspect of the game that allows vehicle tuning, with one of two events each fortnight permitting players to get under the hood. Just as notably, the very first Time Trial was immediately plagued by cheating, and very quickly addressed.
Perhaps the most major change is one that won't affect current players much. October saw the launch of two new versions of GT Sport, with a discounted "Hits" version and a new "Spec II" title. The Spec II game brings all of the game's updates through to the Goodwood Motor Circuit update in May 2019, so that new players don't have to wait through the 43 updates that make GT Sport what it is today.
That's coincided with the game's icon changing — to match the Spec II cover image — on the PS4 console, and a new opening title sequence that focuses heavily on the signature FIA-Certified Online Championship.
We Can Be Heroes
The key to GT Sport, and the origin of its name, was always esports. Right from the very first moment that we first saw the game in action, with a competition at London's Copper Box arena, it was clear that this game was about competitive online racing. A partnership with the FIA made Gran Turismo the official racing game of the governing body for world motorsport.
This competition was only in its infancy as the game passed its first birthday. After a couple of exhibition events where Polyphony Digital refined the format and presentation, Fall 2018 saw the first live finals for players who'd qualified from the online portion. The very public event at Madrid Games Week, with a 500-seat arena built for the purpose, showed just how good these could be. Our first World Final, held in Monaco, provided more of the same, with GT Sport's "maestro" and local resident Lewis Hamilton coming along to provide inspiration.
Although the majority of GT Sport's players don't get involved with the FIA events, their success has been something of a vindication of the game's focus. This year's live event racing so far on the GT Sport World Tour has made new "young heroes", not to mention some villains, and others who walk the line between them. The raw emotion showed by European champion Mikail Hizal after a controversial move by inaugural World champion Igor Fraga was equal to anything you'll see at an F1 weekend.
We're rapidly approaching the second World Final, with only a live event in Tokyo next weekend before the climax — again in Monaco — next month. It has been among the best entertainment on a race track, virtual or otherwise, this year, and we don't see that changing.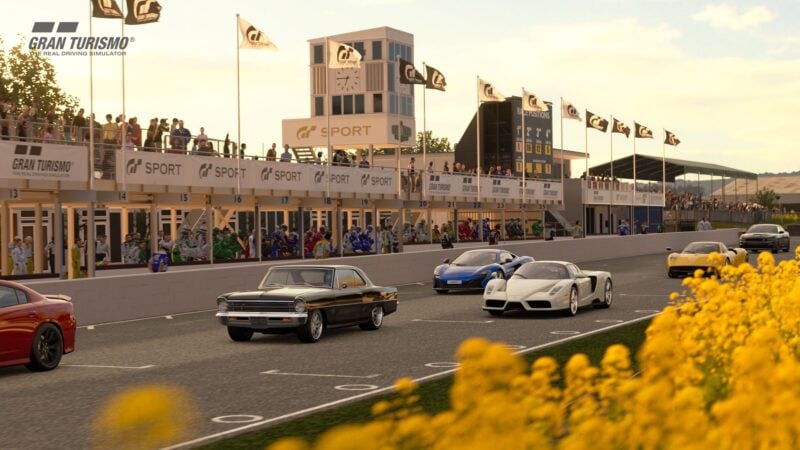 Not Quite at the Finish Line
There's still some shortcomings though, and foibles that new users might struggle to get to grips with.
While we still give GT Sport credit for having a penalty system, the current evolution of it appears far too easy to game. It seems only to judge if a player went faster or slower in any given mini-split following a collision, and issues a penalty to a car that went quicker or 'caused' another to go slower. That means that bump-drafting — two cars driving along in contact nose-to-tail, so that they have effectively more power with the same frontal area — will always cause a penalty for the car in front. Players can also initiate side-to-side contact and then run off-track or into a barrier to generate a penalty for their opponent.
The user interface (UI) also has its drawbacks. It takes far too many button presses to return to the main menu in most situations — as fans of the game's photography modes will attest. The livery editor, although extremely useful and capable of creating impressive designs, could still do with a layer grouping function, and a way to create negative shapes to cut away layers. There's also still no way to change between liveries once you are in a race, lobby, or online event. However there are signs that Polyphony Digital is looking to improve the UI aspect.
Among other bugbears is the Mileage Exchange. We've covered this elsewhere before, but what seemed like an initially good idea has now probably passed its use by date. With nearly 600 paints offered up at a measly 16 a week, originally in what appeared to be a random order, it was a minimum of 8 months before you'd see them all — and in fact turned out to be over a year. These are paint colors you'd need to create your own liveries, so hiding them in a time-locked box is not great for the user experience. If you're new to GT Sport — one of those Spec II buyers — it could be April 2021 until you find the paint you need.
Car categories provide another gripe for gamers. GT Sport's system of classing road cars according to their power output can lead to some weird groupings. Take the Ford F-150 Raptor and the BMW M3 Coupe. Both sit in N400, so would naturally sit together in a race in that category, but the truck gives away some 2,400lb in curb weight. Even with a balance of performance (BOP) calculation applied, you'd never pick the Ford if you wanted to win. This turns certain online races into almost one-make races — it may be an open N300 race, but if you're not in the KTM X-Bow or Toyota S-FR, forget it.
There's also the Gr.X dustbin, into which cars like the Jaguar D-Type go despite being roadgoing racers, along with electric road cars like the BMW i3, making them unusable except in specific circumstances. Meanwhile a time attack Honda and a Mazda literally called "Touring Car" end up in the road car classes.
As for the Maestro, we've thus far seen a single reference lap from Lewis Hamilton, and that arrived in December 2017. This is still part of the in-game main menu scroll, and referred to as "Reference Lap #1", so hopefully more are in the works.
Last but definitely most, the game is still almost non-functional if there's no internet connection, or if PSN has another little hiccup like the one over summer.
What's the Future for GT Sport?
We're certainly expecting more of the same. The Porsche announcement on its own shows that there is a plan to continue the game's content updates right through to the frosty end of 2020 at the very least. That means more cars, probably more tracks (and more rain), and more GT League to get your teeth into. There's also an exciting partnership with Michelin that potentially could reinvent Gran Turismo's tire physics. As for more FIA Online Championships, we reckon that's a shoo-in; with all the human drama of the 2019 season, 2020 has to be on the cards.
But that's an interesting date. Sony has now officially confirmed — both by name and date — the PlayStation 5 for Q4 2020. Will that spell the beginning of the end of GT Sport? It's hard to say, but probably not; Sony has been using an adapted version of the game to show off various aspects of the new console, and the Polyphony Digital team has been presenting versions of GT Sport with technical advances that only the PS5 can offer — such as real-time ray-tracing — in conferences.
Coupled with the fact that the PS5 will support backwards compatibility at launch, it's not too far-fetched to suggest that the PS5 could see a 'version 2.0' of GT Sport, allowing early adopters to play with their millions of PS4-playing colleagues on day one. That would mean continued support for the game on both platforms for a good long while.
Either way, as GT Sport starts its third year, we think it's pretty clear that Polyphony Digital isn't quite done with it yet.